Can you believe it's almost 2017? The Gold Coast wedding industry has evolved so much in 2016 and we're so excited to be a part of it. We've seen some amazing trends emerge that have seriously blown our minds. We have a feeling that next year won't be any different!
If you're planning a 2017 wedding, now's the perfect time to soak up some inspiration. We've chatted with our friends in the wedding industry to predict the biggest wedding trends for bespoke brides in 2017.
Wedding venues
The 2016 trend of outdoor weddings will continue into 2017, with couples embracing the beauty of nature as their backdrop. Although, next year we're expecting more couples to hold their wedding ceremony and reception in the same space, letting the energy of their ceremony flow through into their reception.
At Gold Coast Tipis we work closely with a number of stunning venues in and around the Gold Coast, locations that are perfectly suited to tipi events with their own unique style and ambience.
Wedding style
This year we've experienced some truly magical moments and we know that 2017 is going to be unbelievable! Next year we're expecting more soft lighting with fairy and festoon lights, and elegant, yet uncomplicated decor that allows the natural beauty of our unique tipis to shine through. The boho/vintage/rustic theming is still so popular, and for good reason! There are so many styling options available to us here on the Gold Coast, we are literally spoilt for choice when it comes to suppliers to work with who are very on trend and innovative, and creating Weddings which exceed all of our expectations.
We think we'll see more flowers, pops of colour and eclectic vibes. Rustic timber benches and tables will still be there, along with our wine barrels and rustic bars. In 2017 low tables are going to make a big appearance, accompanied by large floor cushions, creating the picnic style vibe that we absolutely adore!
Wedding catering
In 2016 we saw couples steering away from the standard 3-course set menu, opting for the unique experience of food truck dining. This style is just perfect for a tipi wedfest, a relaxed way for guests to dine and a cost effective option for the bride and groom.
2017 won't be any different. The food truck trend will thankfully continue, and lucky for us there's a long list of new food trucks popping up all over the Gold Coast, giving couples an even greater range of amazing cuisine to choose from. See some of our favourite food trucks and mobile bars here. 
This year we've also seen the emergence of grazing tables. We absolutely love this style of dining and the platters look out of this world. It's such a chilled, relaxed way of eating and we're super excited to see what 2017 brings with this trend.
Wedding flowers
Greenery will be big again in 2017, and looks absolutely stunning against the earthy tones of our majestic tipi marquees.  We're expecting to see lots of foliage and natural arrangements, accompanied by vibrant pops of colourful blooms. Boho brides can still embrace the 'freshly picked' look for their bouquets and table flowers, and decorate our tipis with beautiful floral chandeliers. This year we've seen some beautiful flower arbors, and in 2017 they're only going to get bigger and better!
Wedding dresses
Tipi brides always have a unique style of their own, embracing authenticity and always dressing true to themselves. In 2017 we're predicting brides will continue to stand our with their stunning wedding gowns and dresses and we're expecting to see more free flowing dresses, long sleeves, tiered skirts of lace and bridal capes, which we just love!
For bridal hair, untamed tumbling locks and loose braids were right on trend in 2016, and we hope this stays for 2017!
Wedding cakes
We have seen some amazing cakes this year! Next year we're expecting to see more beautiful cake designs incorporating fresh flowers, with a sense of effortless beauty. We think dessert tables will remain popular in 2017, because after all, who doesn't love a dessert table!
Wedding invitations
A wedding invitation sets the tone of your special day and should reflect your personality, style and individuality. Some definite trends have emerged in 2016 and in 2017 we think we'll see more minimalistic designs, florals, water colours and bespoke handmade creations.
Wedding rings/engagement rings
While diamonds will always have a place in wedding and engagement rings, in 2017 we think we'll see even more unique pieces, with alternative stones and custom designs.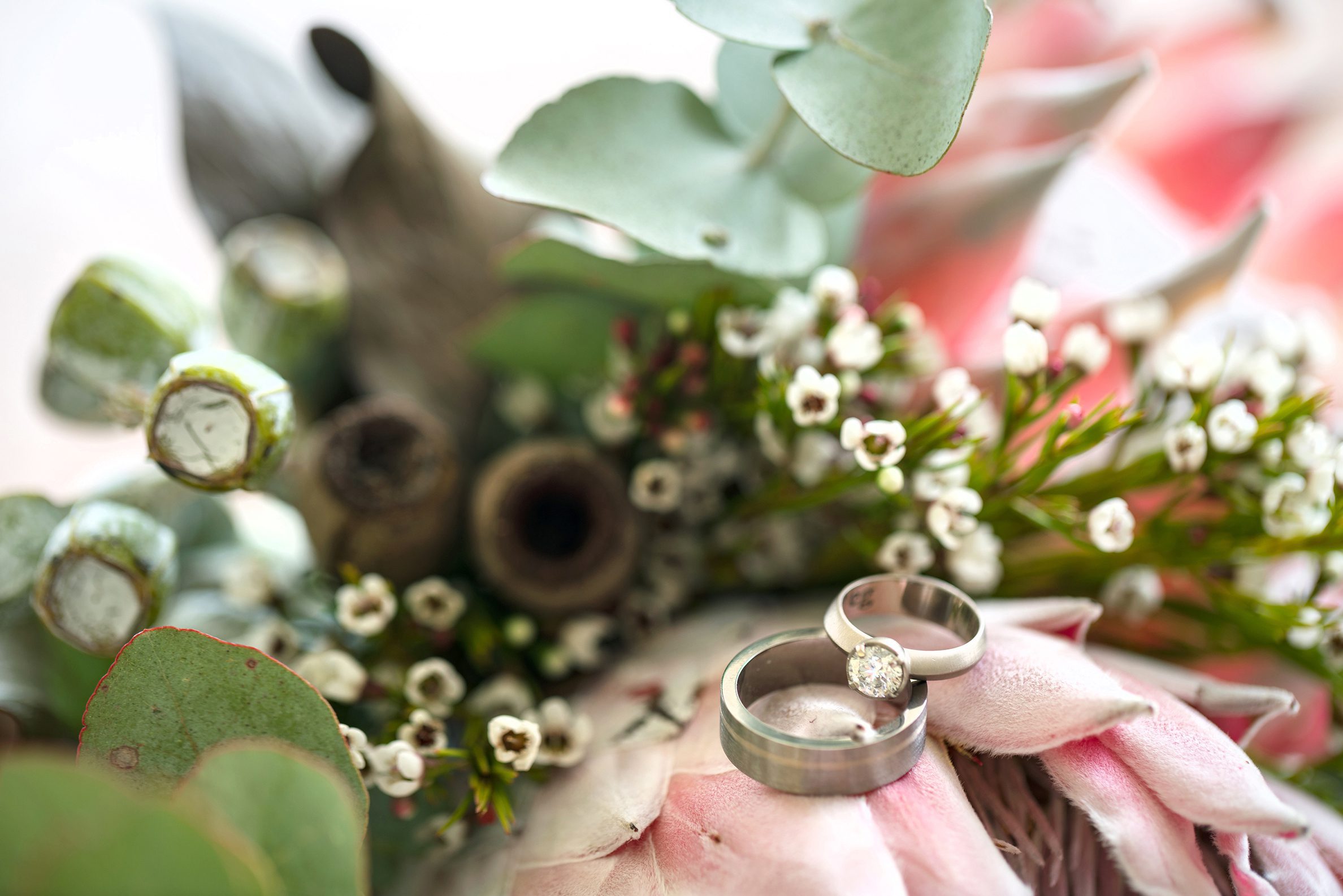 Wedding photography
In the last few years wedding photos have come a long way. Gone are the days of the standard staged photos, now we see more natural, heartfelt photography. As couples look for more unique ways of capturing their special moments, we're going to see some innovate approaches to wedding photography such as the 'first look photos'. A very non-traditional approach, these photos capture that first emotion-filled moment that the groom sets his eyes upon his bride, before the guests arrive. We love the first look concept as is also allows the couple to mingle with their guests straight after the Ceremony rather than being whisked away for an hour or 2. It adds a new element to their Wedding day, plus they get to enjoy Cocktail Hour.  See more first look photos here.