It's all happening next weekend folks! The annual Buskers by the Creek festival will take place along the creek in Currumbin. We will have 2 of a majestic kata tipis set-up, both providing a gorgeous space for you to experience some world class acts.  We are so honoured to be a part of this amazing, community inspired event again as not only is it a highlight in our calendar each year, it is also a unique celebration and collaboration of everything we love –  music, arts, food and plenty of good vibes!
This year's festival has a stellar line-up that includes an eclectic mix of street performers, plus plenty of activities for the kids, like workshops, craft, music and circus activities. There will be our favourite food trucks serving tastey treats from all 4 corners of the globe, and a licenced bar area for you to enjoy a coldie whilst soaking up the uber cool atmosphere on offer.  There's absolutely nothing quite like it on the Gold Coast and we urge you to get your family and friends together to enjoy a spectacular weekend along the waters edge in Currumbin, you will not regret it. We had a quick chat with Buskers by the Creek Organiser Cindy Jensen, to get the inside scoop on how this awesome concept came about, and what's in store for this years action packed event.
Congratulations on your 3rd year of Buskers by the Creek. What can people expect to see and experience at this years festival? Our theme this year is 'Pipedream', so expect even more of the unexpected! We've got Australia's first ever floating half pipe which will showcase BMX and skate stunts.  There's contortionists, comedians, circus troupes, magicians, musicians and loads more…including sword swallowing children! We're also stoked to have the Indians back performing under your tipi – they were a spectacle!  Nearly 300 performers will be taking over Winders Park and it's going to be an action packed weekend of entertainment! Did I mention Gold Coast Skydive will attempt landing in on a moving jetski?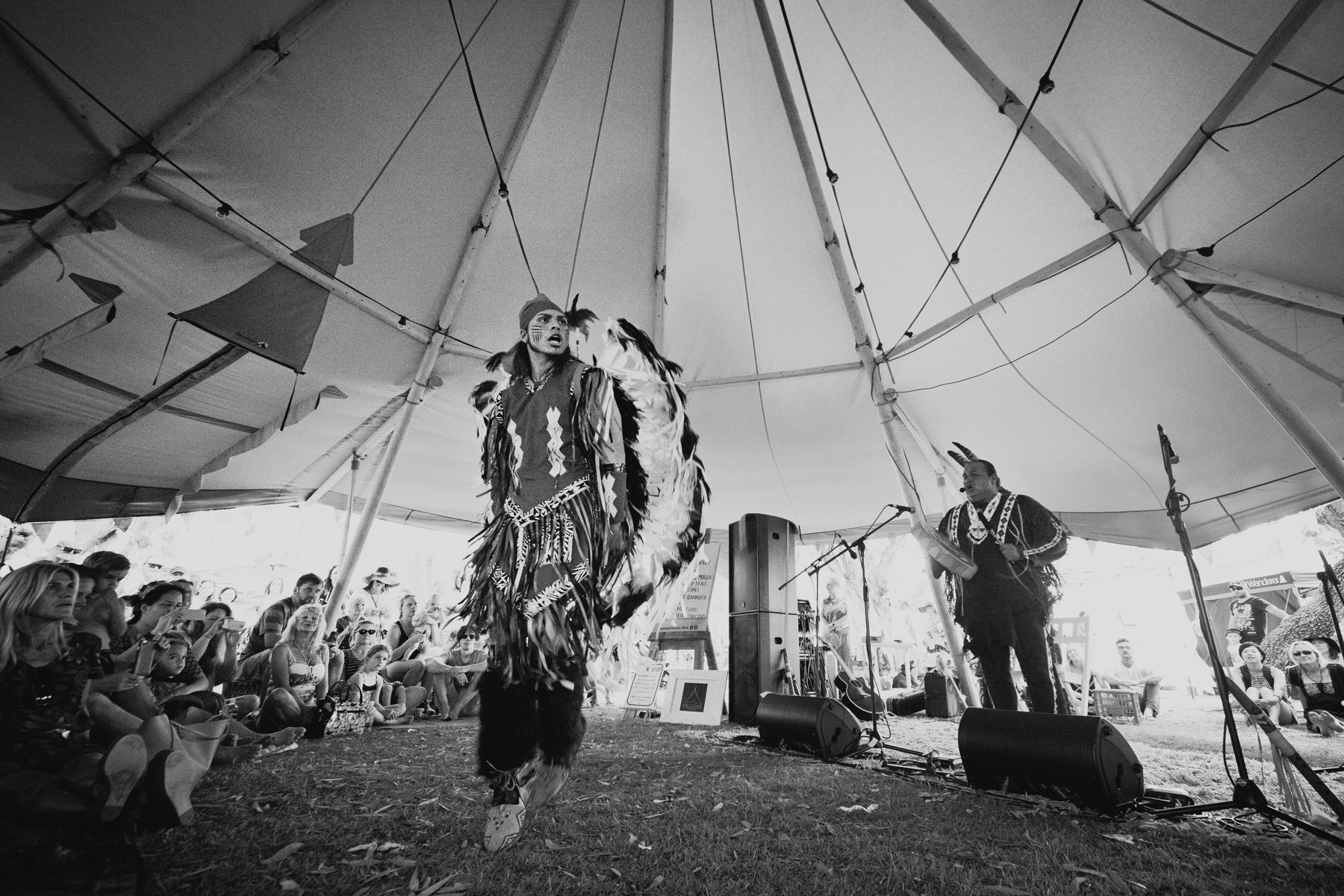 Wow that's amazing! There is no event like this on the Gold Coast or surrounding areas,  and we thank you so much for bringing this all together for us. How did you come up with the concept of a buskers festival, and where do you get all of your inspiration from? I was walking through a market in Thailand and saw three blind guys busking amongst the sensory explosion!  There was food, colour, flavour and surprise…that was my inspiration.   I flew home, wrote my plan in the plane and have never looked back!
What a great story! For people wanting to attend this years event, what handy info do have for them, so they get the most out of this awesome weekend? Remember to tip!  A busker is someone who entertains in a public place for donations.  They're not paid by us and rely on your generous donations.  If you don't have spare change, head to our information tent and purchase our 'Tip Picks' – each worth $1 to the artist.
We've got a vast array of international food vendors dishing up with festival flair and NightQuarter will be serving up beer, wine and cocktails.  BYO alcohol is strictly prohibited.  We recommend you pack a picnic blanket or your favourite camp chair and lay claim to your preferred position.  A beach umbrella wouldn't go astray either and remember, SLIP, SLOP, SLAP!
Parking is limited, but we promote the cycle and walking paths.  The weather will be glorious, so park in the industrial area in Currumbin or out on the highway and get those legs moving!  Currumbin Primary School have kindly opened their oval gates and will be offering $5 parking – it's just around the corner from Winders Park, on Philip Street.  The gates will be manned by their teachers and volunteers, with all funds generated going towards much needed educational material.  Parking is also available across the road from Currumbin RSL, in the grass area behind the Veterans Support Centre.  The cost is $5 per car with 100% of funds donated to the Veterans Support Centre.
Buskers by the Creek is the perfect festival for all ages groups, plus you'll get to enjoy our tipis up close and personal.  Head down to Winders Park, Duringan St, Currumbin, on 15/16 October – we hope to see you there!