Teenage sweethearts Teigan & Zach decided that a Tipi wedding was for them after bumping into us at a venue Open Day.  Lovers of a great time, festivals, fun, family & friends, a chilled 'wedfest' style Tipi wedding suited them perfectly! They had the perfect property to use and with a lot of planning, their DIY wedding came to fruition in the most amazing way!  On the wedding day they were blessed with perfect weather, so Teigs decided that we should leave the canvas off the smaller Kung tipi, which once entwined with fairy lights and dressed with awesome furniture & decor, created the most magical chill space amongst the trees.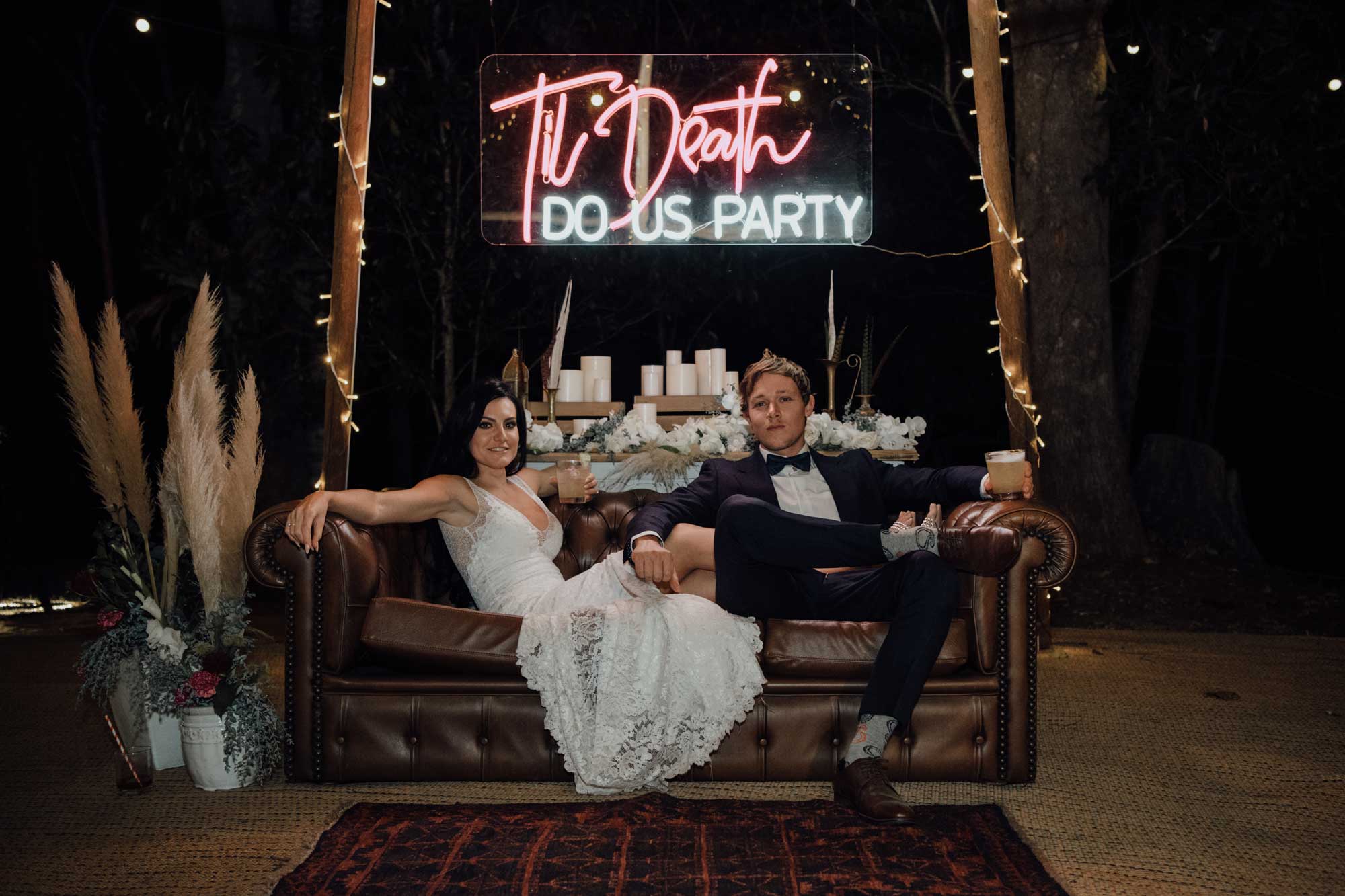 Tell us about the moment you and your partner first met?
We first met through mutual friends (who we're still great friends with) when I was 16 and Zach was 17. We have a shared friendship circle and spent most weekends/social events hanging out 'just as friends', until group events turned into one on one dates. I always saw Zach as a great catch but thought nothing would ever come of it – that we were just great friends. Little to my knowledge, prior to officially dating, Zach mentioned to my mum that he would marry me one day… Not long after, one night after a sushi date and a movie, Zach dropped me back home and offered to open the door for me – this was unusual. Out of the blue Zach asked me to be his girl!
 How did you know a tipi wedding was for you?
We both love a good time, have always enjoyed going out, music festivals, road trips, camping, social events with friends and family… we knew we always wanted something totally relaxed and informal, so our vision was to create our own 'festival/wedfest' style wedding. After seeing GC Tipis' Kata set up at Sol Gardens wedding expo we were sold on the idea of a tipi wedding!
 What styling tips are a must for the tipis? 
You can never have too many fairy lights, festoons or candles! The tipis create such a magical space on their own, but why not illuminate your space for when the sun goes down?! "Go crazy and vomit fairylights everywhere" was my main lighting request – subtle lighting like festoons, fairylights and especially candles really set the mood. We had fairylights twisted up the poles of the tipis, candles on every flat surface, festoons overhanging and fairylights even twisted through trees!
 Did you have a budget in mind, and did you stick to it? 
We thought we could "budget" by doing it all ourselves and having both the ceremony and reception on in-laws property rather than hiring a venue… but outsourcing everything did add up. We feel like we didn't go overboard, but also didn't miss out on anything.. doing a lot ourselves; especially décor like signage, styling items, favours for guests, saved us a lot of money and gave us the opportunity to really personalise things. We did come up against things most couples wouldn't need to think of, if having a wedding at a venue; toilets, cutlery, lighting, landscaping, seating etc. All in all, DIY-ing is so much fun and we're proud to have thought of every little detail and even though we were a little over budget, every element was personalised to us and totally worth it!
 How do you describe your style and where did you find your inspiration? 
Being a very laid back couple who love the outdoors and don't take ourselves too seriously, we knew we didn't want anything formal or too traditional. Knowing we wanted a 'festival' style wedding, live music and food trucks were a MUST. A mix of inspiration from GC Tipis' blogs, Pinterest and some hints of our own style, we blended these all together and came up with a chilled-boho wedding with loads of lounging areas, day beds, lawn games, live music, food trucks, confetti cannons, and to add even more fun we had private busses to pick up our guests and drive them to the 'secret location' property. A fun filled, festival style, love-fest!
 What was one of your favourite highlights from your Wedding? 
There's so many! Probably the final song on the dancefloor, everybody dancing and singing together, and letting off the confetti cannons as soon as the beat dropped… a moment we (and our guests) will never forget. Oh and the bestman forgetting the wedding bands during the ceremony – such a laugh and definitely a highlight of our ceremony!
Is there anything you would have done different, and if so what? 
The only thing we would do, would be extend the bus pick up time at the end of the night!
Do you have any advice for other couples planning a tipi wedding?
Do YOU – do what best suits you and your partner and showcases the two of you as a couple.
You can never have too many fairylights or festoons.
Enjoy the process! Start researching sooner rather than later and relish in all the planning, it is over before you know it.
On your big day, stand back and take a look at what you and your partner have created – the tipis themselves are a sight to see, even more so when they're filled with all your favourite people having the time of their life! This is definitely a big wow moment.
The Dream Team//
Venue:  Private property, Little Vin Farm and Tall Trees Tallebudgera
Tipis: GC Tipis – Kata and Kung
Furnishings: Arctic Fox
Photography: Florin Lane
Film: Wild Creative Media/Wild Weddings
Catering: Barraca
Bar: The Irish Shakes
Wedding Planner/Co-ordinator: Planned ourselves, On-the-day Coordinator – Lea from Frank and Joy
Celebrant: Danielle Barker
Musician: Jake and Coops – Janda Events
Styling: The Luxe Social, Arctic Fox, Impact Lighting
Cake: family friend
Dress: Grace Loves Lace
Hair: Sandra Cramb
Make-up: Lenise Pattini
Suits: Peter Jackson
Toilets: Splash Down