David and Danielle's wedding was a magical occasion that took place on a private property just outside the picturesque town of Tallai. This vintage themed wedding had plenty of charm and romance, it's hard to believe it was planned in just 3 months. Decorated with lace, bunting and red roses, the tipis transformed as the sun went down, illuminated with festoon and fairy lights strung overhead. What an enchanted space to celebrate the marriage of this gorgeous couple!
What made you choose tipis for your wedding? We wanted something different for our venue. With only three months to plan the wedding, we knew it would be very special to have it at the home where David grew up and to have something non-traditional as our marquee….and a surprise for our guests too. Oh, and the tipis looked so enchanting!
What advice do you have for people who are planning a tipi wedding? DIY weddings are a massive job! It took us two full days (the Thursday and the Friday) to set up the venue ready for the wedding on the Saturday. Tip 1: Make sure you have free access to the venue. The staff who put up the tipis were amazing – we left them to do what they needed to do and we spent the time working on the other aspects of the wedding. We chose two tipis because we wanted there to be plenty of dry cover in case it rained….and boy, did it rain, all day until 10 minutes before our ceremony. Fortunately the skies cleared and we had plenty of dry space for our 100 guests. Carefully consider how many guests you have and how many tipis you will need.
What styling tips are a must for our tipis? There are so many beautiful images online of how to style the tipis. With a summer wedding and a vintage theme, we stuck to our core areas – decorating the tables and decorating the space above the tables. We handmade paper doilie bunting (metres and metres of it) and strung it from the beams. For the tables we used white tablecloths, hessian runners, lace, tea lights and loads of roses in vintage crystal vases (which we collected for 3 months). We let the soft green grass play its role under foot. Oh, and if you want dancing at the wedding, make sure you hire the dance floor!
Can you describe the experience of having your wedding reception under 2 Kata Tipis? The one word that comes to mind…magical! We hired the fairy lights and festoon lights from Gold Coast Tipis as well and this made both inside and outside the tipis truly magical!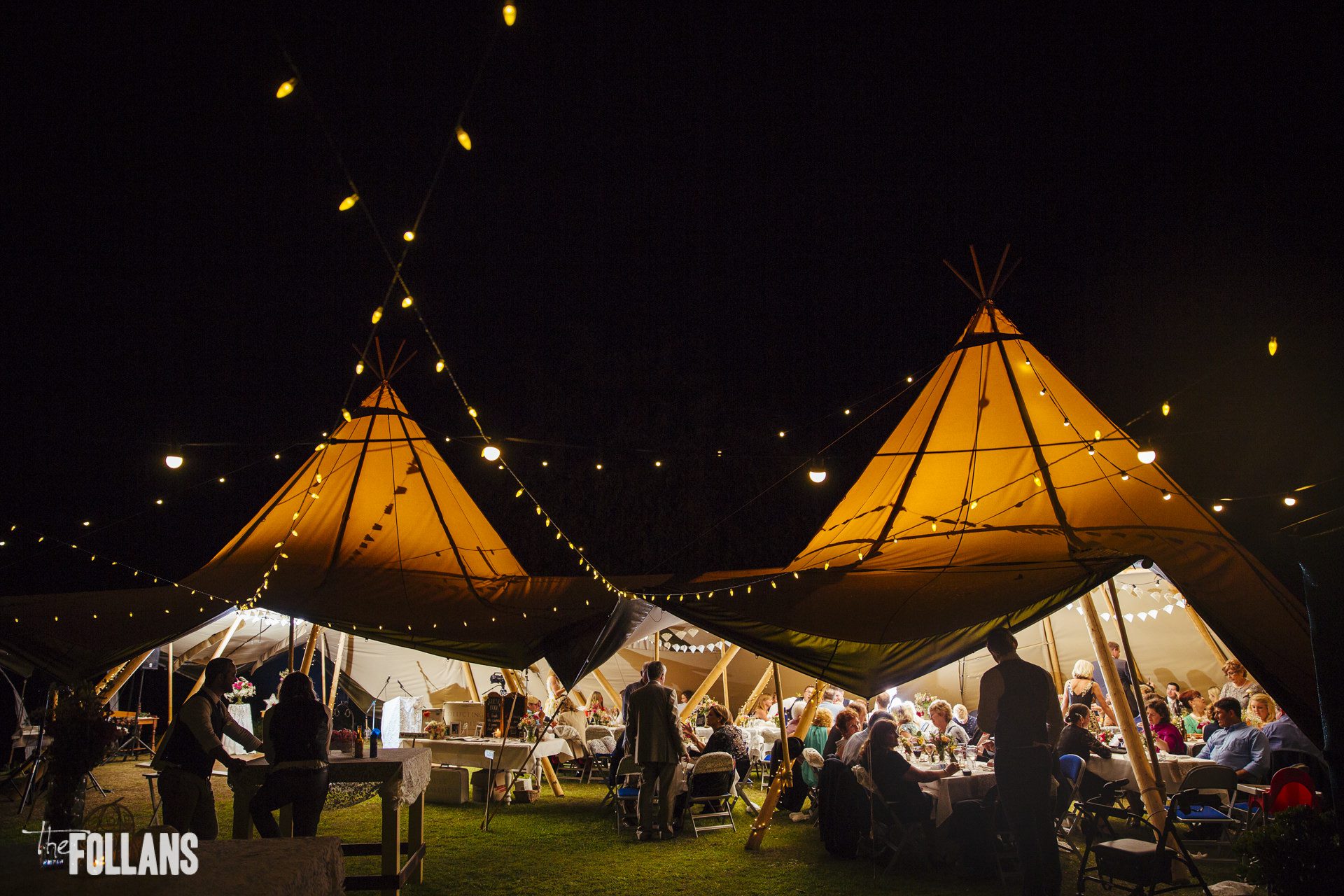 Venue: Ceremony / Reception  – Private property, Tallai Tipis: Gold Coast Tipis Furnishings: DIY vintage theme with roses, lace & hessian Photography: Ben – associate photographer from The Follans Film: Trending Media Australia Catering: Clancy's Wedding Planner: DIY Bride (Danielle) Florist: DIY floral arrangements at venue Bouquets & buttonholes: Elizabeth Rose Bridal Styling: DIY Bride (Danielle) Dress: Gowns of Elegance Hair: Velbella Make-up: Velbella Cake: Eloura