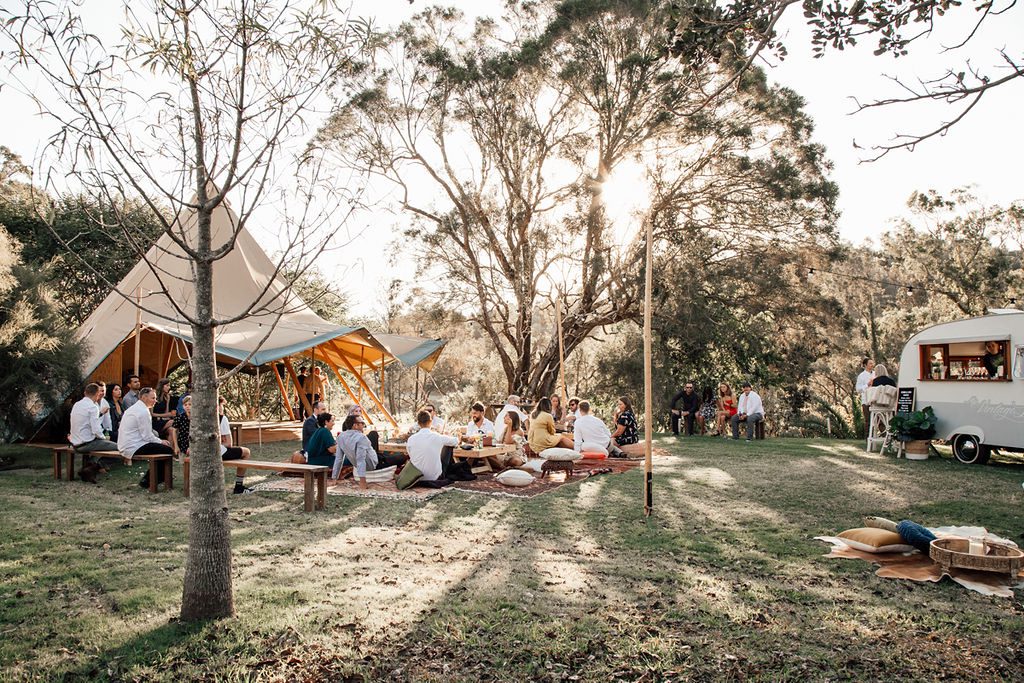 Gemma & Josh's boho luxe wedding at Riverwood
Planning your own special day from the ground up allows you to infuse all of your favourite things into a celebration which is as unique as you are. It is no secret that this can be a little more labour intensive than booking an all-inclusive venue, however the planning stages can be a lot of fun, and there is no doubt that the results really do speak for themselves.
Gemma & Josh chose the stunning grounds of Riverwood in the Gold Coast Hinterland as their blank canvas, and with a team of extremely talented local wedding suppliers, they were able to create the dreamiest of settings to share their love and commitment to each other with all of their favourite people. Every aspect of their special day reflected their personalities, from the boho inspired gown and blooms, to their 4 legged groomsman, and them breaking tradition and having 'bubble-o-bills' for dessert instead of a cake, which the guests absolutely loved!
Tell us about the moment you and your partner first met?
We met through a mutual friend, when we went out for a "quiet" Sunday drink. Started non-stop talking, and became quickly inseparable.
How did you know a tipi wedding was for you?
There wasnt really any doubt about it – we were both so impressed by the Tipi's! They add such a fun vibe to the wedding without being over the top. Most of the venues we looked at were blank canvas ready and waiting for a Tipi to be dropped on.
Especially loved the naked Tipi used for our arbor, we saw the set up at a wedding open day and just had to have the exact same!
What styling tips are a must for the tipis?
We loved the Tipi in the natural super green back drop, really made the Tipi pop!
Fairy/Festoon light is a must! We went with a relaxed boho style which really suited the Tipi and surrounding greenery, didnt want to over crowd the Tipi so we had plenty of dance floor space!
Did you have a budget in mind, and did you stick to it? 
We didn't really have a dollar value budget in mind but was hoping for under $30k
Unfortunately we went just a little over, coming in at $32k which we were more than happy with and didn't feel like we scrimped on anything.
How do you describe your style and where did you find your inspiration? 
I think we were aiming for a mesh of casual boho plush luxe kind of vibe. Most of the inspo was pulled from instagram, getting caught in a web of wedding styling pages and real life weddings.
What was one of your favourite highlights from your Wedding?
The Ceremony  – the sun was shining in just the right warm light, all our favourite people were there, it was so peaceful down by the river, it just felt so magical and surreal.
Is there anything you would have done different, and if so what? 
We would have arranged for a DJ or music to go through the night. Lots of people advised us that choosing your own music was best, but it made the dance floor a little disjointed – still heaps of fun, but I think someone dedicated to music all night would have been better.
Do you have any advice for other couples planning a tipi wedding?
Definitely go and see the set up of a Tipi. Its good to get the size and the feel of it – you will be wow'd and will want to book right then and there!
Venue:  Riverwood Weddings Tipis: Gold Coast Tipis Furnishings: Global Vintage Hire Photography:Wilde Visual Film: Wilde Visual Catering: Scheer Delight Platters / Double Zero Pizza   Bar: My Vintage Lane Wedding Planner/Co-ordinator: Carmen Kennedy – Riverwood  Celebrant: Catherine Longworth Musician: Jesse Pumphreys Florist: Lola's Wildflowers Styling: just me 🙂 Cake: NA – we had bubble-o-bills Dress: Grace Loves Lace Hair: The Style Room Make-up: The Style Room Suits: Made with Class Toilets: Riverwood Cool room: Riverwood Generator: Riverwood