Carly & Darren's Jewish Wedding at Gold Coast Farm House
Tipi weddings are always a magical occasion, but every now and again there is a celebration that really gets our hearts racing!
Carly and Darren's tipi wedfest was just that, a one-of-a-kind festival style wedding overflowing with excitement and love, and beautiful moments intertwined with the couples traditional Jewish rituals.
The couple, their family and their friends flew in from interstate, finding their dream venue at The Farm House Numinbah Valley. Their setup had us swooning, with an outdoor garden party feel, complete with lawn games and drinks served from the chic My Vintage Lane mobile bar. Sparkling festoon lights lit up the three large Kata Tipis, and eclectic furniture and mason jars brimming with freshly picked blooms completed the look.
Carly and Darren rendezvoused at the farmhouse for first look photos, then met beneath the chuppah (a canopy with no walls, symbolising how a marriage begins with a roof, then the walls are built with love, friendship, respect and trust), where Carly honoured another Jewish tradition, the 'Hakafot', circling Darren 7 times, before joining him to recite their heartfelt vows. At the end of the ceremony, Darren stomped on a glass, and everyone yelled 'Mazel Tov' which means 'Good luck'.
Everyone feasted on yummy food from The Vintage Pickle, and ate ice-cream from Wheel and Spoon, then the party really got started! They drank and danced the night away, stopping for the Horah, a traditional high energy Jewish dance bracket where guests go absolutely crazy and make a circle surrounding the bride and groom before some brave guests hoist the bride and groom high above the crowd on chairs to the infectious sounds of "Hava Nagila".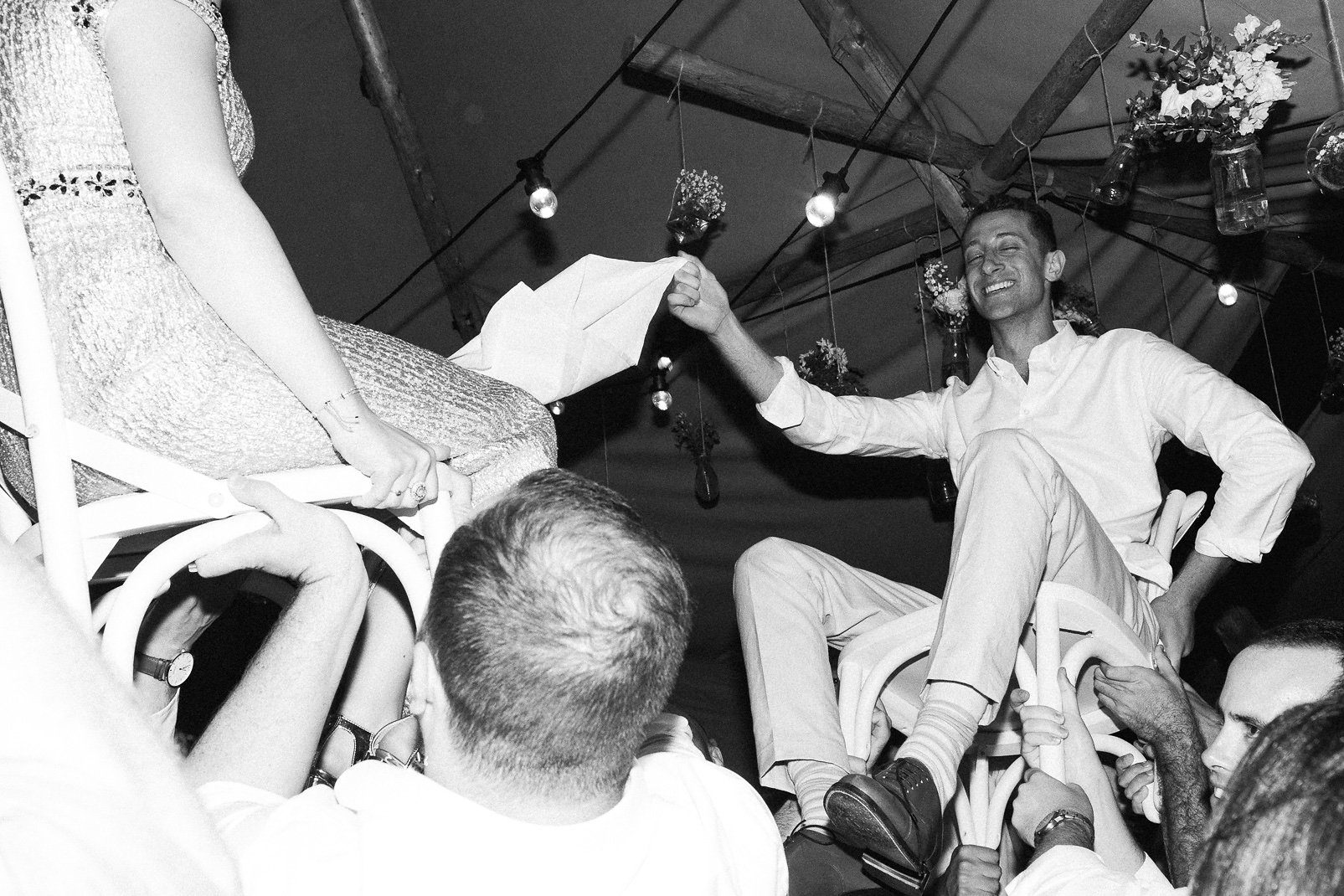 With a spectacular surprise fireworks display organised by the groom, and a colourful belly dancer organised by the bride, this wedding was out of this world, an eclectic blend of chilled wedfest vibes and age-old Jewish traditions.
Tell us about the moment you and your partner first met? It was December of 2007, we were 18 and met after high-school on an overseas trip. We became best friends initially, were together in our early 20s and got back together in our late 20s. This wedding was 10 years in the making!
How did you know a tipi wedding was for you? The minute we saw pictures of the tipis on the Gold Coast Tipis website we knew they suited what we wanted for our wedding – laid back, but fun! They were also special because they reminded us of the colour of the tents we used while camping in Tanzania and Kenya, Africa, although a much bigger version! They suited our size wedding, and we liked that we could always order another tipi if more guests decided to come last minute, or if we were nervous about the rain (which is how we decided on three tipis instead of two, the night before the wedding!)
What styling tips are a must for the tipis?  We ordered a lot of extras to go with the tipis from the website, such as the festoon lighting, matting for the floor, outdoor fire pit and extra lighting to brighten the way to the toilets. We highly recommend each of these extras, if your budget allows! We also recommend using a florist that is responsive to your taste to help decorate inside the tipis, and a furniture hire company for furniture inside and around the tipis, which brought our wedding to life and created the coolest atmosphere and vibe! We also hired a mobile bar which suited our set up and set up lawn games right next to the tipis for a bit of fun.
Did you have a budget in mind, and did you stick to it?  Yes & No, (we tried haha) but that's because we knew it would be a good investment to get a third tipi in case of the rain as our venue was completely outdoors! We also noticed that leading up to the wedding, the nights were cooler than we anticipated and instead of our guests needing to use jackets we thought a fire pit would warm everyone up.
How do you describe your style and where did you find your inspiration?  Our style was 'outdoor garden party'. We drew a lot of inspiration from other tipi weddings as we hadn't ever been to a tipi wedding before, we found this blog particularly helpful! We also searched hashtags on Instagram to find vendors on the GC – such as our band (e.g., #goldcoastband)
What was one of your favourite highlights from your wedding?  We both organised surprises for each other – Darren organised fireworks and I organised a belly dancer (his family's tradition) as he wasn't expecting one! Carly's dad also got up with the band to play a few songs which was really special.
Is there anything you would have done different, and if so what?  The only things we would have done differently are so small that they aren't even worth mentioning!
Do you have any advice for other couples planning a tipi wedding? Surround yourselves with vendors that you have met and get a good vibe from, then there is not much to worry about on the day! We tried our best to meet each of our vendors in person when we visited the GC as we were from interstate. Hannah was so helpful at suggesting vendors she had worked with and they complimented each other. We had an event co-ordinator and stylist for the wedding day and the wedding wouldn't have been possible without Ngaire! It is worth having your wedding outside in a place such as the Gold Coast Hinterland as it was absolutely magical, but factor the weather into your budget (both extreme heat or rain) and try to have a back up plan in case. We had as much fun planning the wedding together as the day itself. We haven't stopped smiling since! To all the couples thinking of a tipi wedding, stop thinking and make it happen. Trust us.
Venue: The Farm House, Numinbah Valley Tipis: Gold Coast Tipis Furnishings: The One Day House Photography: Chloe May Film: Bottlebrush Films  Catering: The Vintage Pickle Bar: My Vintage Lane Wedding Planner/Co-ordinator: Ngaire Hogan from Event Stylist and Co Celebrant: Rabbi Paul Lewin Kombi: Kombi Celebrations Musician: Hanlon Brothers Fireworks: Light 'Em Up Fireworks Belly dancer: Sheherazade – Gold Coast Bellydance Academy Australia Florist: Florals & Co Styling: Ngaire Hogan from Event Stylist and Co Ice Cream: Wheel and Spoon Dress: Custom gown + headband by Cristahlea (bride), Ginger and Smart (Bridesmaids) Hair: Saju Hair (bride), Lace Bridal Hair (bridesmaids) Make-up: Sally R Makeup Artist Suits: Belance (groom), The Academy Brand (groomsmen) Toilets: Portable Powder Rooms Cool room: Excel Event Equipment Hire Generator: Excel Event Equipment Hire Golf cars: Augusta Golf Cars