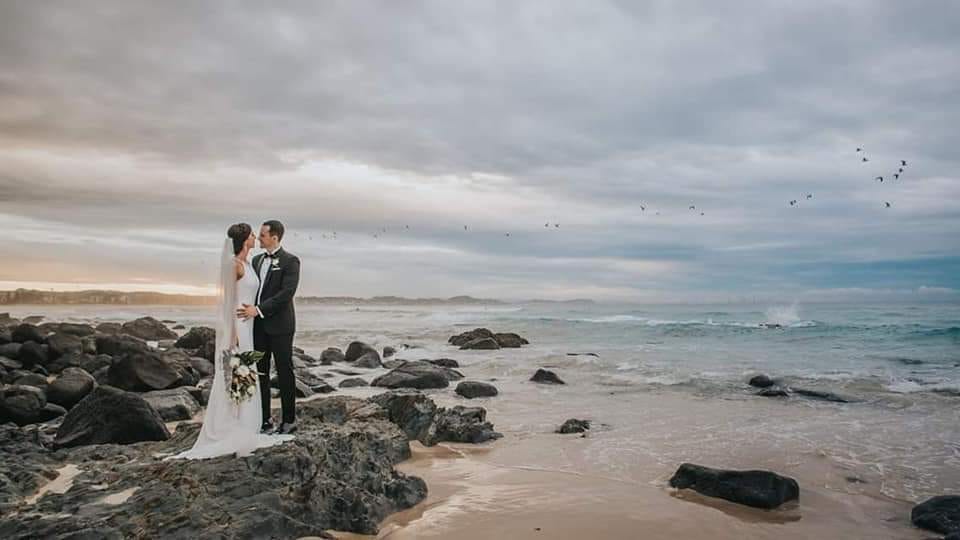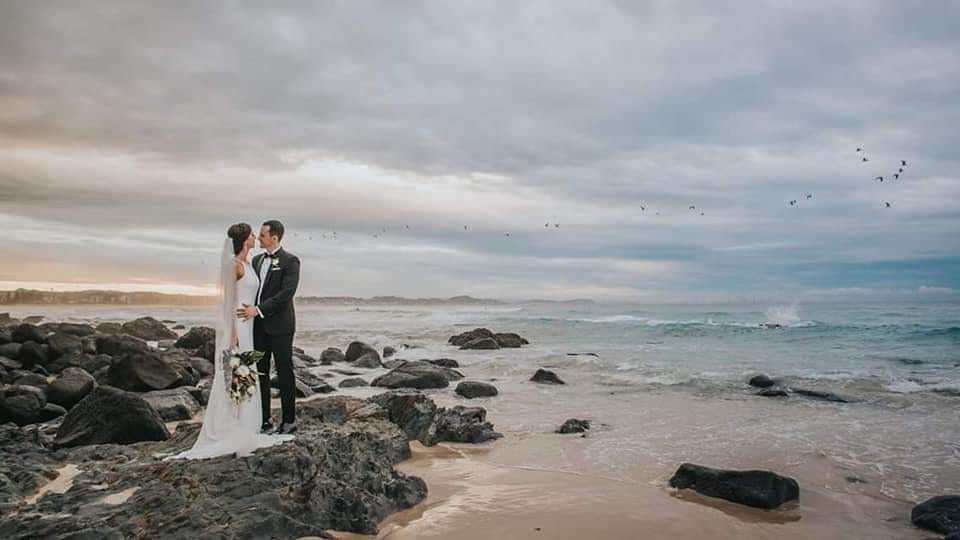 Kirra Hill weddings are a fav of ours, the location is amazing. Jessica & Scott were married on top of Kirra Hill, with a vista over the ocean that is rivalled by no other on the Gold Coast.
Their wedding reception at the Kirra Hill Community Centre featured the stunning combination of of our giant white Kata tipi, and smaller naked tipi entwined in fairy lights, under which they had their romantic first dance as husband and wife. An array of tropical furnishings and decor supplied by The One Day House, accented with stunning tropical pot plants by The Planted Co, and catering by Little Wahaca & Fire'n'Dough food trucks, ensured the couple's dream of a coastal, tropical, festival style wedding was brought to life.
Jess & Scott's special day was filled with inspiration from their holidays & travels & their love of music festivals, which saw them dancing the night away with family & friends to their favourite dance music!
Tell us about the moment you and your partner first met?
Scott & I met at University Games, he was playing in the men's basketball team and I was playing in the women's basketball team. I knew he was a whole lot of fun, and that still hasn't changed to this day.
How did you know a tipi wedding was for you?
Scott and I LOVE music festivals, and what screams festival more than a giant Tipi? We wanted the relaxed and fun vibe for our wedding and using tipis definitely helped created that, while also giving a sense of awe and magic.
What styling tips are a must for the tipis?
Greenery and lightening pair so beautifully we tipis. We hired large tropical pot plants, beaded light chandelier for the centers of the tipis and additional fairylight lighting to extend out from the tipis over the grassed area, and it looked amazing. And you don't have to fill in the center of the Tipi with hanging lighting/floral centerpiece, they are quite beautiful on there own.
Did you have a budget in mind, and did you stick to it?
Not really. We just made a conscious effort to research, get multiple quotes and spent what we thought was reasonable for things. In doing that there was compromises and things were excluded, but the day was PERFECT, wouldn't have changed a thing.
How do you describe your style and where did you find your inspiration?
Coastal, tropics, festival wedding was our style.
We love the ocean, spending time beach, holidaying to tropical locations and scuba diving hence the coastal/tropics style. We are both also great lovers of music festivals, something we continue to enjoy and have travelled around the world to experience.
What was one of your favourite highlights from your Wedding?
How much fun it was! We honestly did know a wedding could be so much fun. Enjoying our hilarious speeches below the kata Tipi, our sparkler "fireworks" paired with the naked/fairylight tipi for our first dance, and it was awesome dancing the night away in the Great Hall which our DJ friend filled with our favorite dance music.
Is there anything you would have done different, and if so what?
There was one issue with one of the food trucks not putting out their entrees at the right time, which left guests hungry for an hour until the issues was resolved. It occurred due to a misunderstanding, so not really something we could change, and there was more than enough food after. I guess just make sure you/your coordinator gives the food company exact time you want service and the dishes you want served.
Do you have any advice for other couples planning a tipi wedding?
Tipi weddings are the best! We were so grateful to have our beautiful white kata Tipi as initially it was planned to provide shade from the sun, but it rained after the ceremony and due to its size all guests were able to comfortably sit in below it and we had a wonderfully relaxed, intermit space for speeches. We also hired one of the naked fairylight tipis which we did our first dance below, it was simply magically, a memory I'll cherish forever.
Advice – definitely hire the mat flooring with the kata Tipi, very worth it so there is a comfortable flooring to move about on, place furniture and sit on.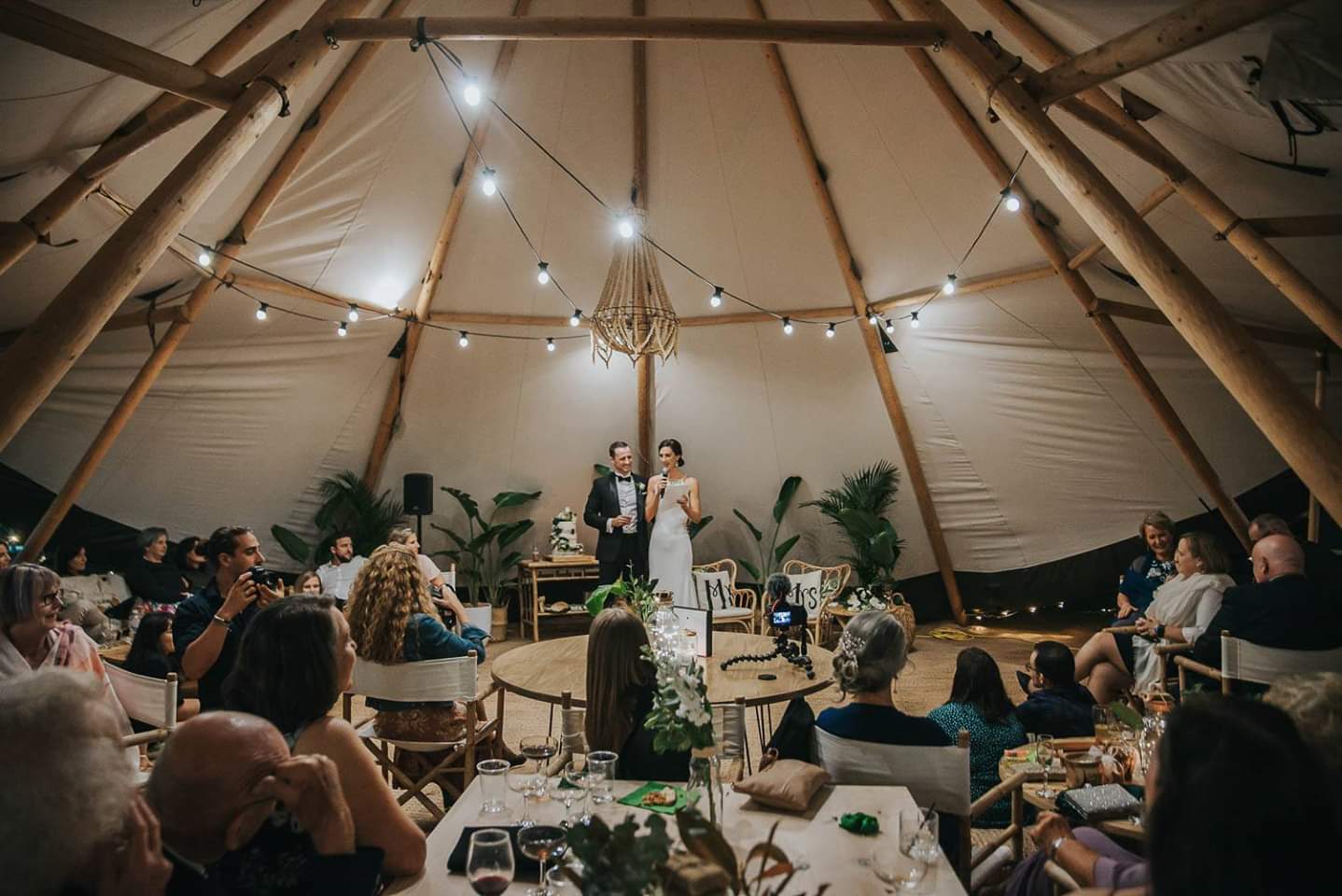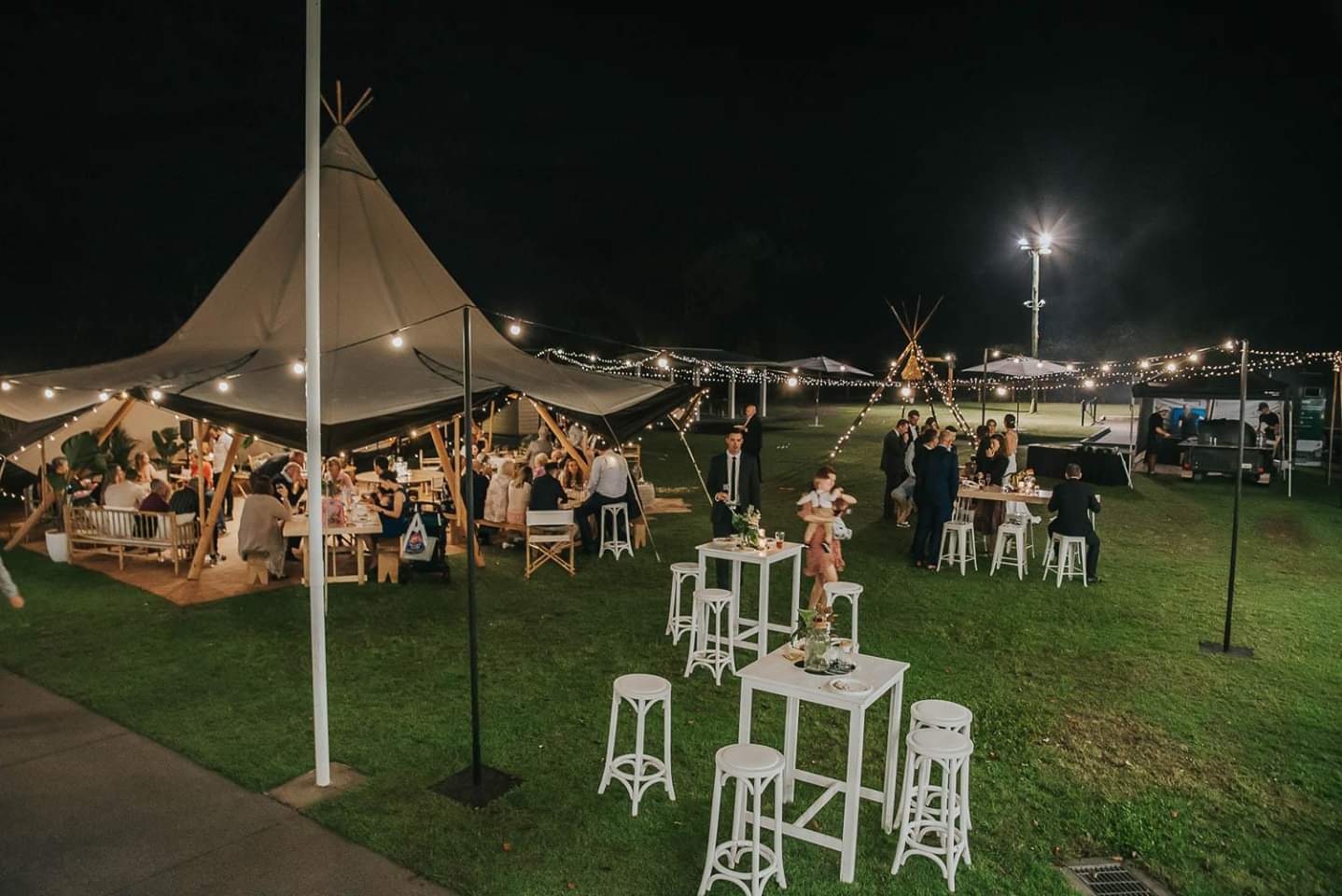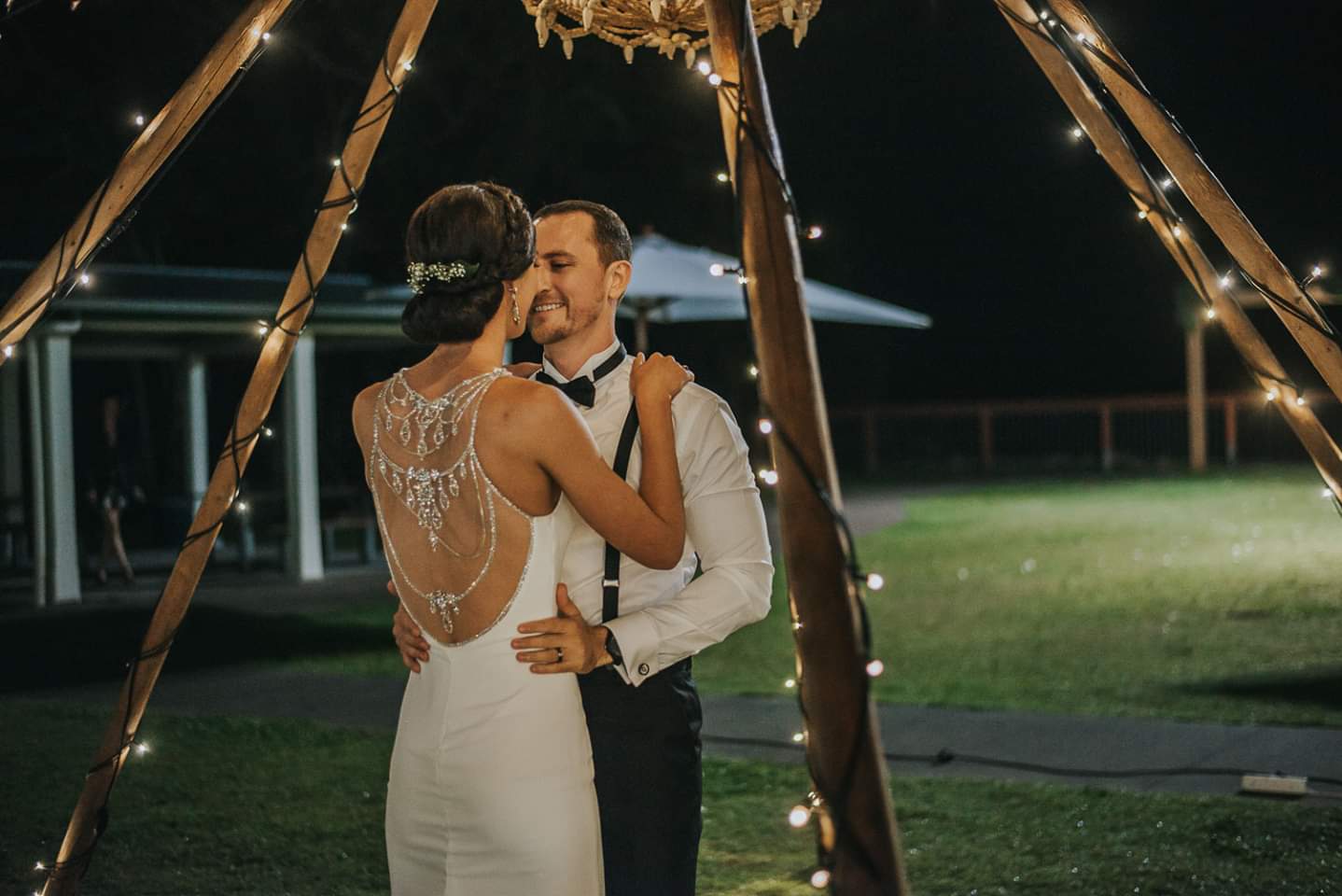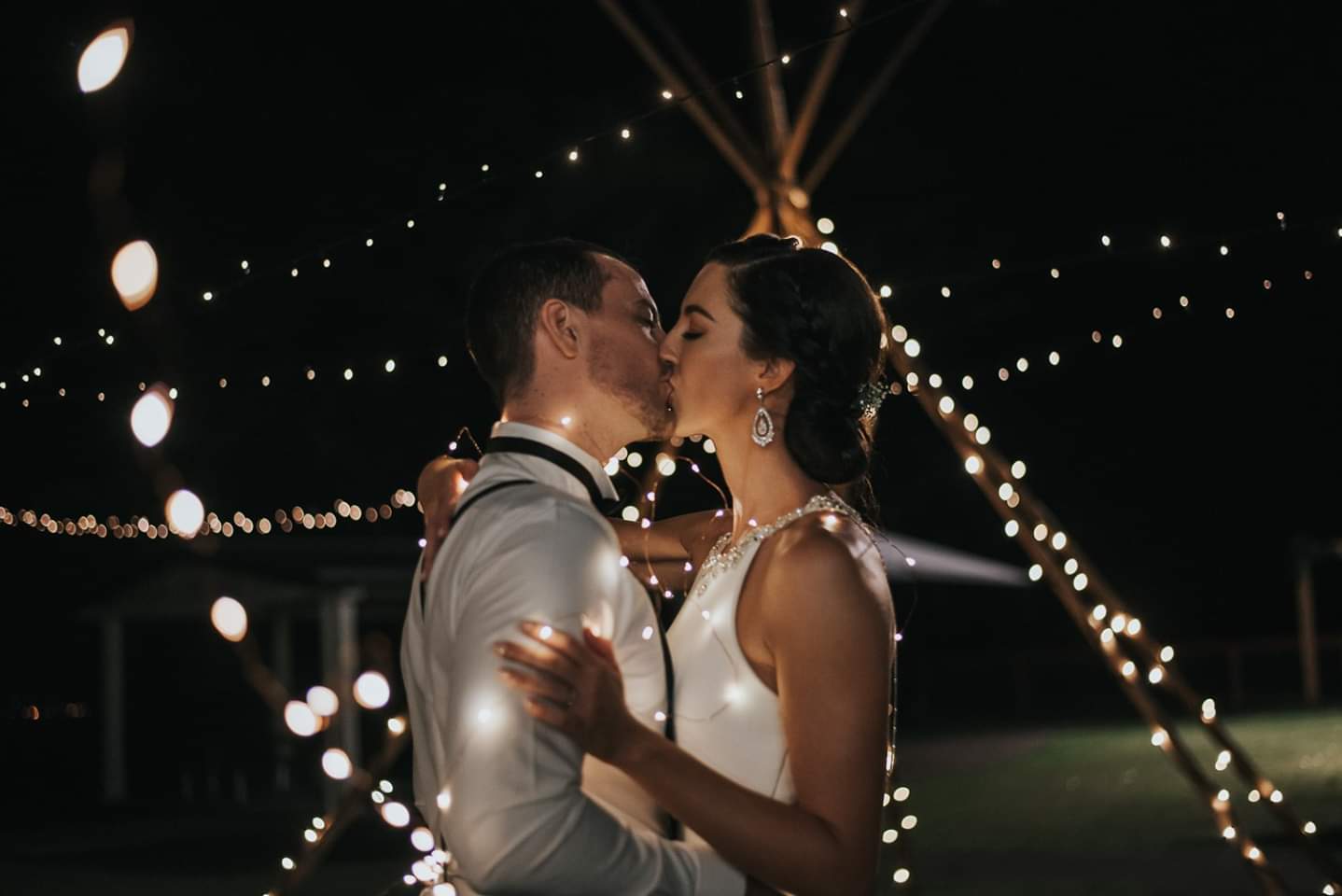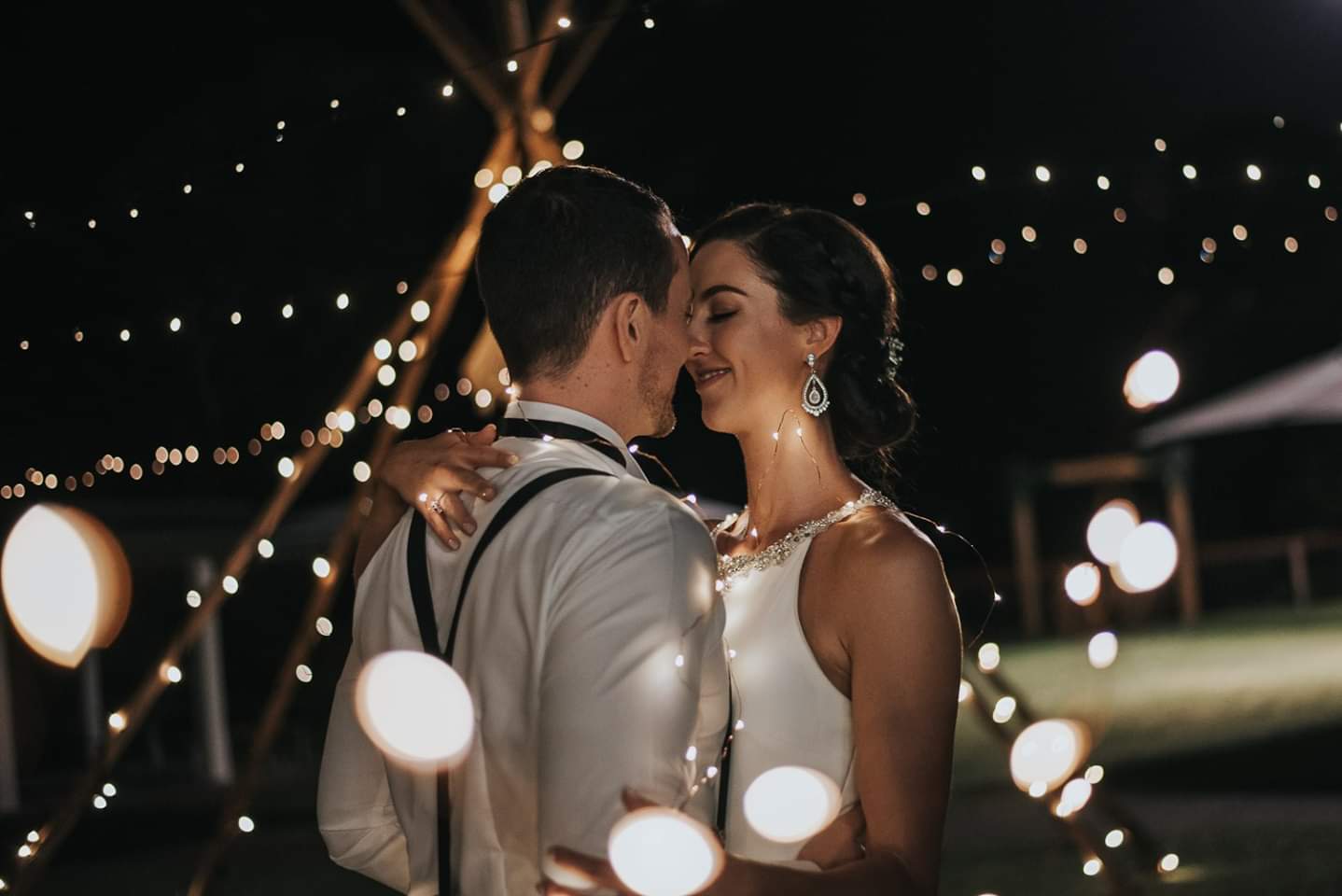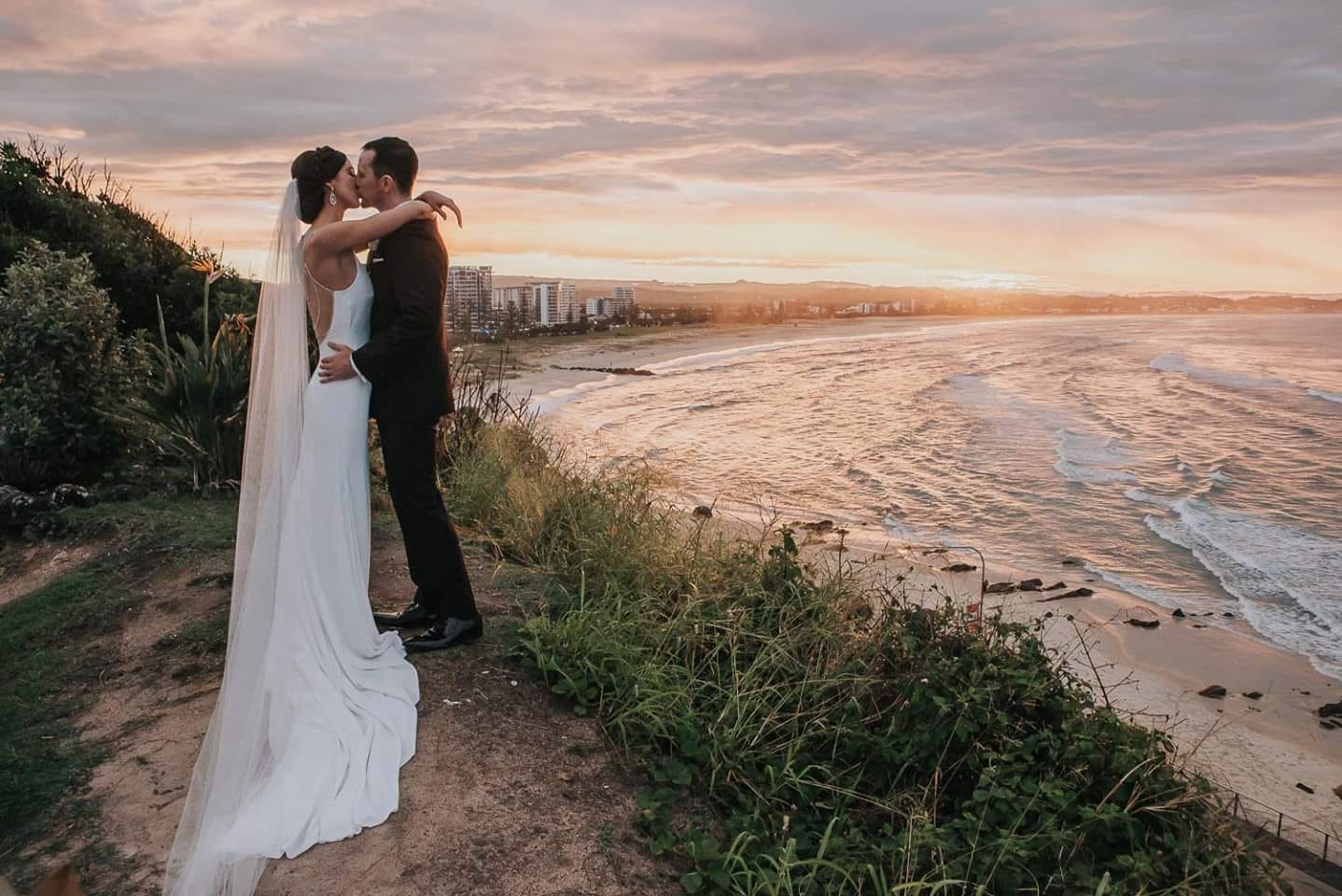 Jessica & Scott's team:
Venue: Kirra Hill Community Centre
Tipis: Gold Coast Tipis
Furnishings: The One Day House
Photography: Simon Hutchen
Film: Saladito Studios
Catering: Food trucks – Little Wahaca & Fire'n'Dough
Bar: Catering Events
Wedding Planner/Co-ordinator: Arctic Fox
Celebrant: Amanda Smolders
Musician: Glig from the The White Tree
Florist: The Planted Co
Styling: Arctic Fox
Cake: Friend-made
Dress: Pronovious, from Luv Bridal
Hair: Porcelain face Makeup Artistry
Make-up: Porcelain face Makeup Artistry
Suits: Classic International Suits