Jacqui & Chris were married at a beautiful country property in Cedar Creek earlier this year and we were absolutely blown away by their stunning photos by Lovelenscapes Photography. Their Country Boho wedding was a dream – a little untraditional (love that they chose to do all their bridal party photos first), a ton of fun (that nerf gun fight!) and a whole lot of STYLE! Here is their story, and a snippet of the amazing imagery.
Tell us about the moment you and your partner first met?
We met in our first year at university, though it wasn't until after graduation that we started dating. During a class at university I had hurriedly cleared a space next to me as a cute boy had caught my eye. Unfortunately that cute boy turned out to be the teacher, and I was not thrilled when this other guy turned up -late!- and took the spot. Chris then made up any excuse to ask questions, copy my work and generally just chat to me, none of which turned out well for him at the time. It was definitely a slow burn at the start for us, though thankfully Chris persisted and around the time we graduated (three years later when I no longer had study to focus on), we started to date. Seven years after we first met, we went travelling – we had taken a gondola ride up to the top of a mountain in Switzerland. The peak was above the clouds and it was really magical – as the view started to peek through the clouds Chris bent the knee (hurriedly in case people noticed) and popped the question.
Tell How did you know a tipi wedding was for you?
We wanted a space where our guests could let their hair down and relax. We wanted somewhere that encouraged mingling and had an open plan feel, so that all of our guests felt like family at a bbq, rather than a more formal setting. As we researched, as soon as we saw the tipis being used at weddings we knew that they were perfect for us.
What styling tips are a must for the tipis?
When it comes to tipis, you can't go wrong, there are so many ways to style it. Though, whatever you go with, lots of plants, be they ferns, flowers or pampas grass go a long way in making your tipi really pop and come to life.
Did you have a budget in mind, and did you stick to it?
We did find that our budget evolved as we researched – we did end up spending more than we initially thought we would, though in hindsight, that was largely due to our naivete around the expense of throwing such a big party. In all we were able to be frugal with most decisions and are very proud of our event.
How do you describe your style and where did you find your inspiration?
Our style was very country boho, and there wasn't so much inspiration as a mashup of different things that we liked, we just got really lucky that they ended up blending together okay.

What was one of your favourite highlights from your Wedding?
Hmm, probably the fact that we had chosen to take our bridal party photos before the ceremony meant that we were able to have some fun with them without anyone watching, or without worrying about our guests waiting for us, or having fun without us and feeling fomo.
Chris: Kissing my bride was my favourite moment on the day
Jacqui: Walking down the aisle and watching the expression of surprise, resignation and then laughter on Chris's face when he realised that I had chosen Dropkick Murphys song 'shipping up to boston' as my bridal walk music.

Is there anything you would have done different, and if so what?
I really believe that we had a perfect wedding and I wouldn't change a thing – from the leisurely soak in the hot tub at breakfast, to posing in our pajamas with the local sheep and chickens, through to a nerf gun fight during our photos -which took place before the ceremony. We had a lot of fun and whilst not everything went to plan, it didn't matter and we had a wonderful time.

Do you have any advice for other couples planning a tipi wedding?
You don't have to do everything yourself. Many people offer to help because they want to be involved in your special day. It's wonderful to have the imagination and creativity of multiple loved ones come together – even if it might not turn out exactly how you pictured it, you might get something even better.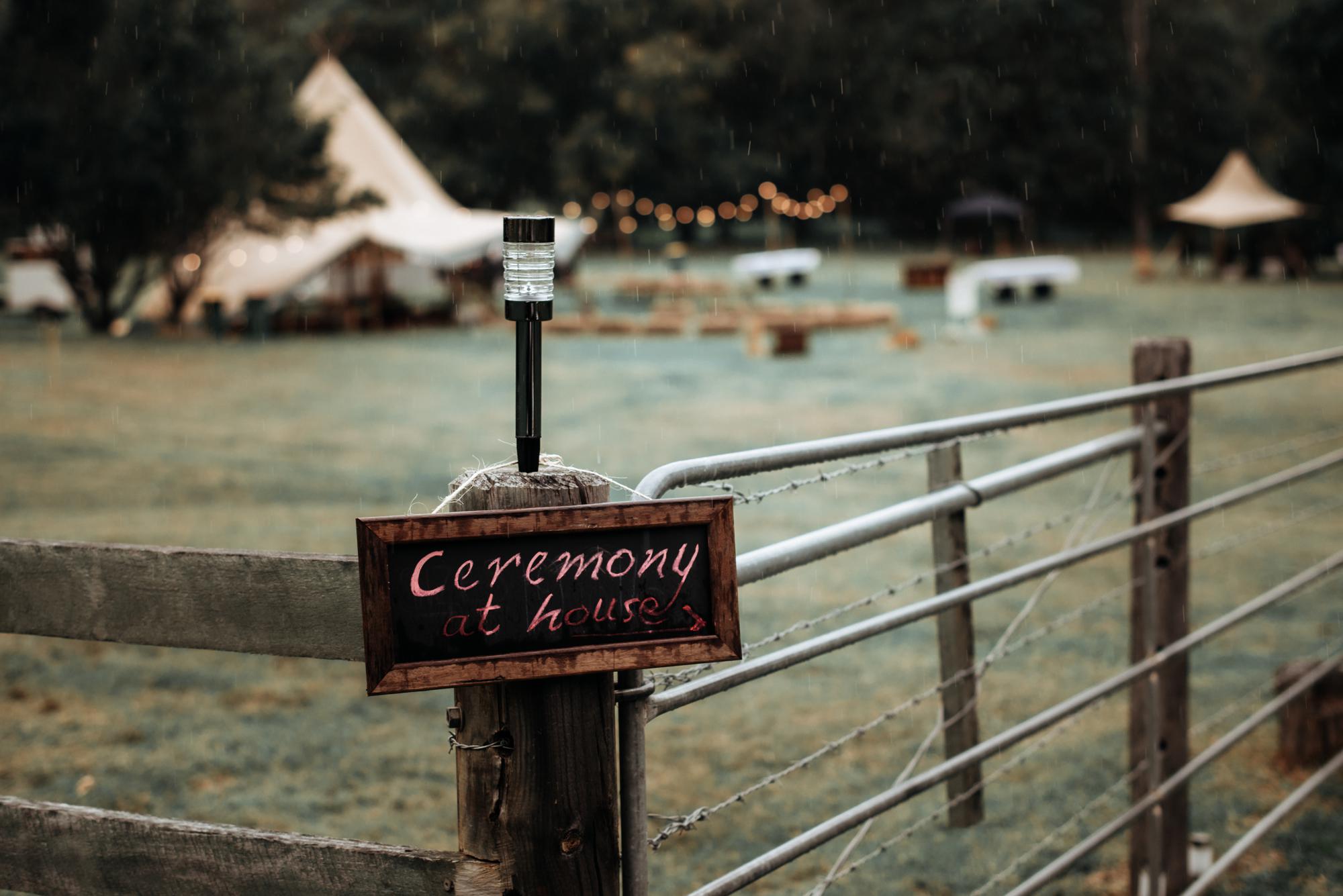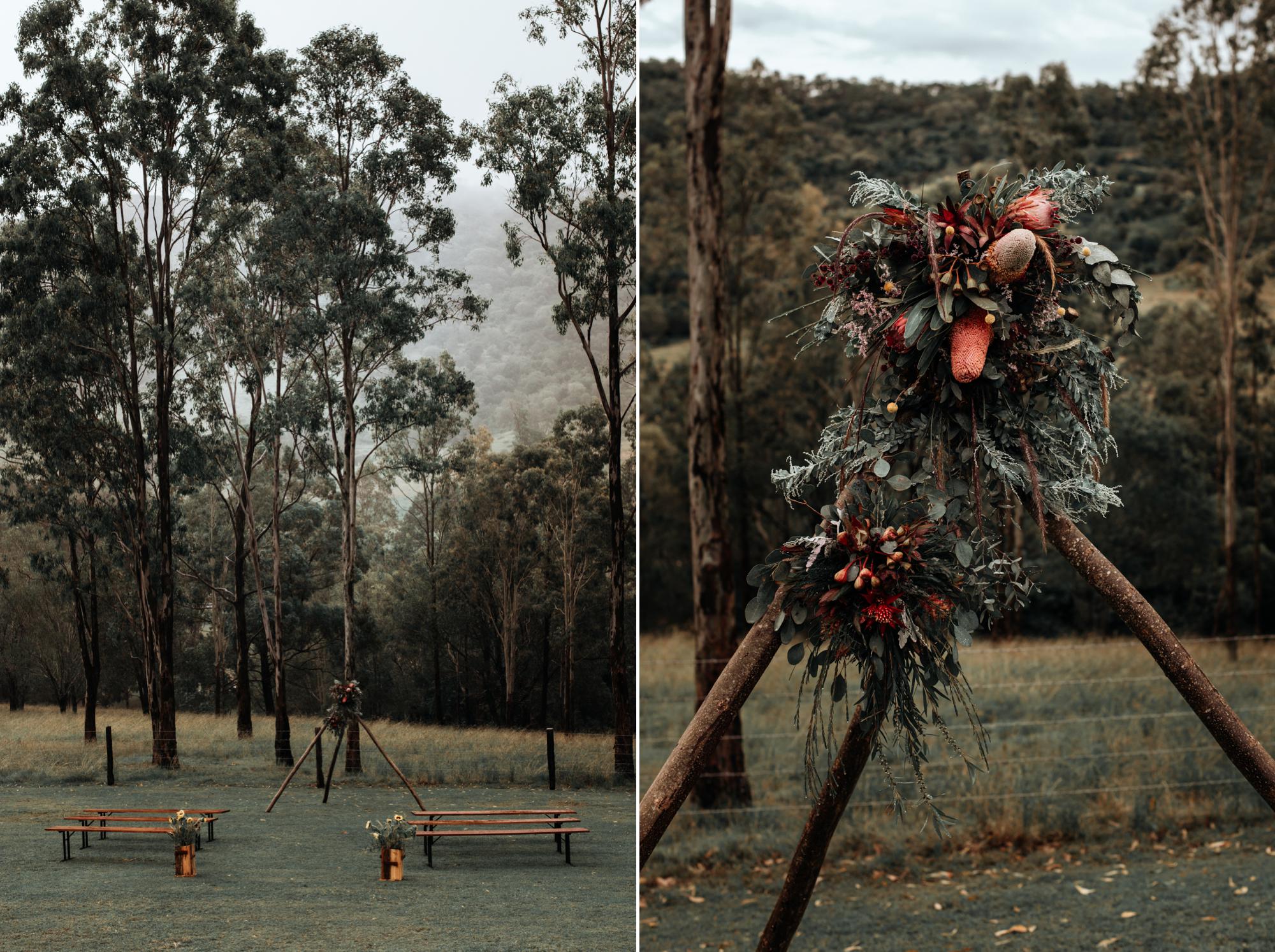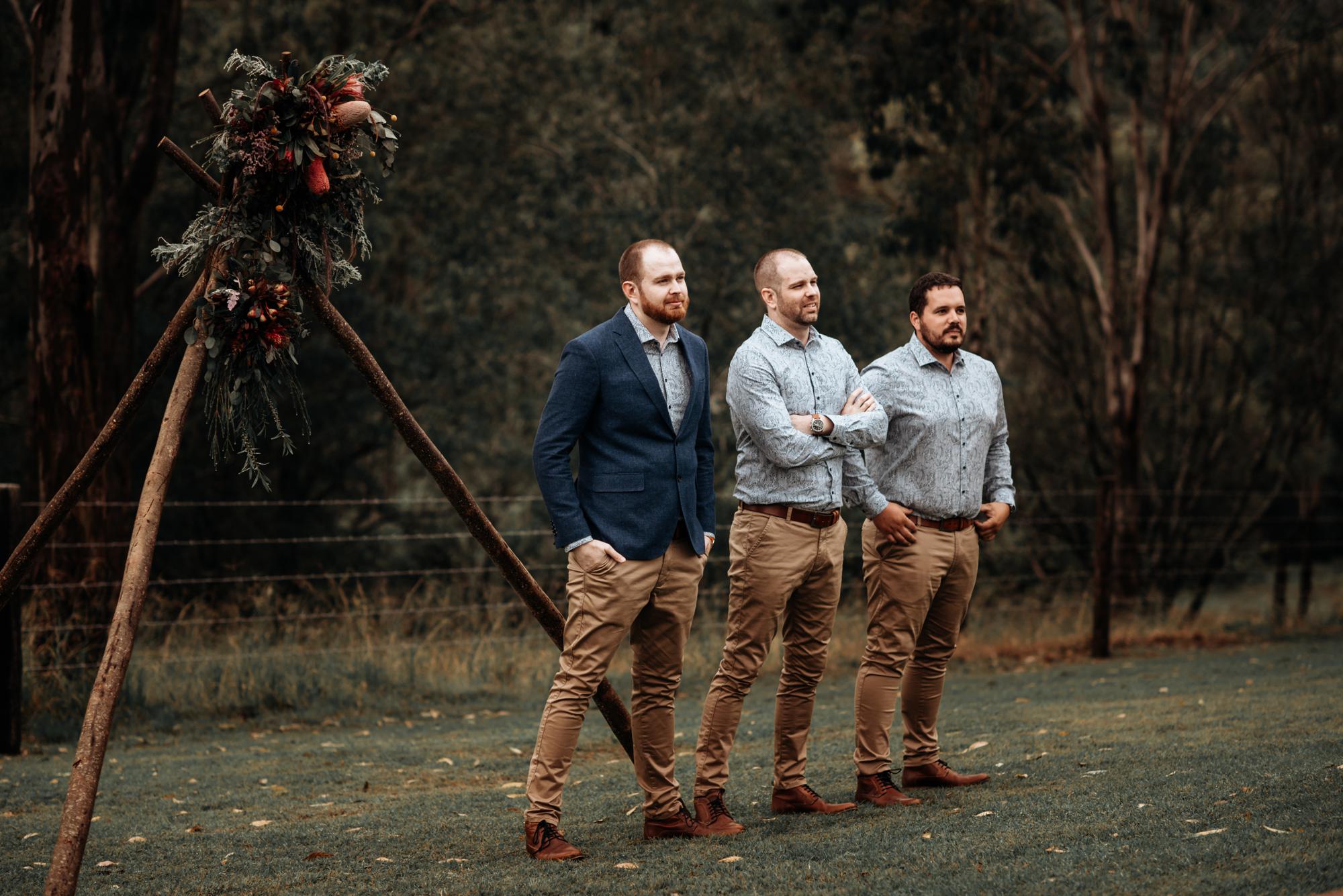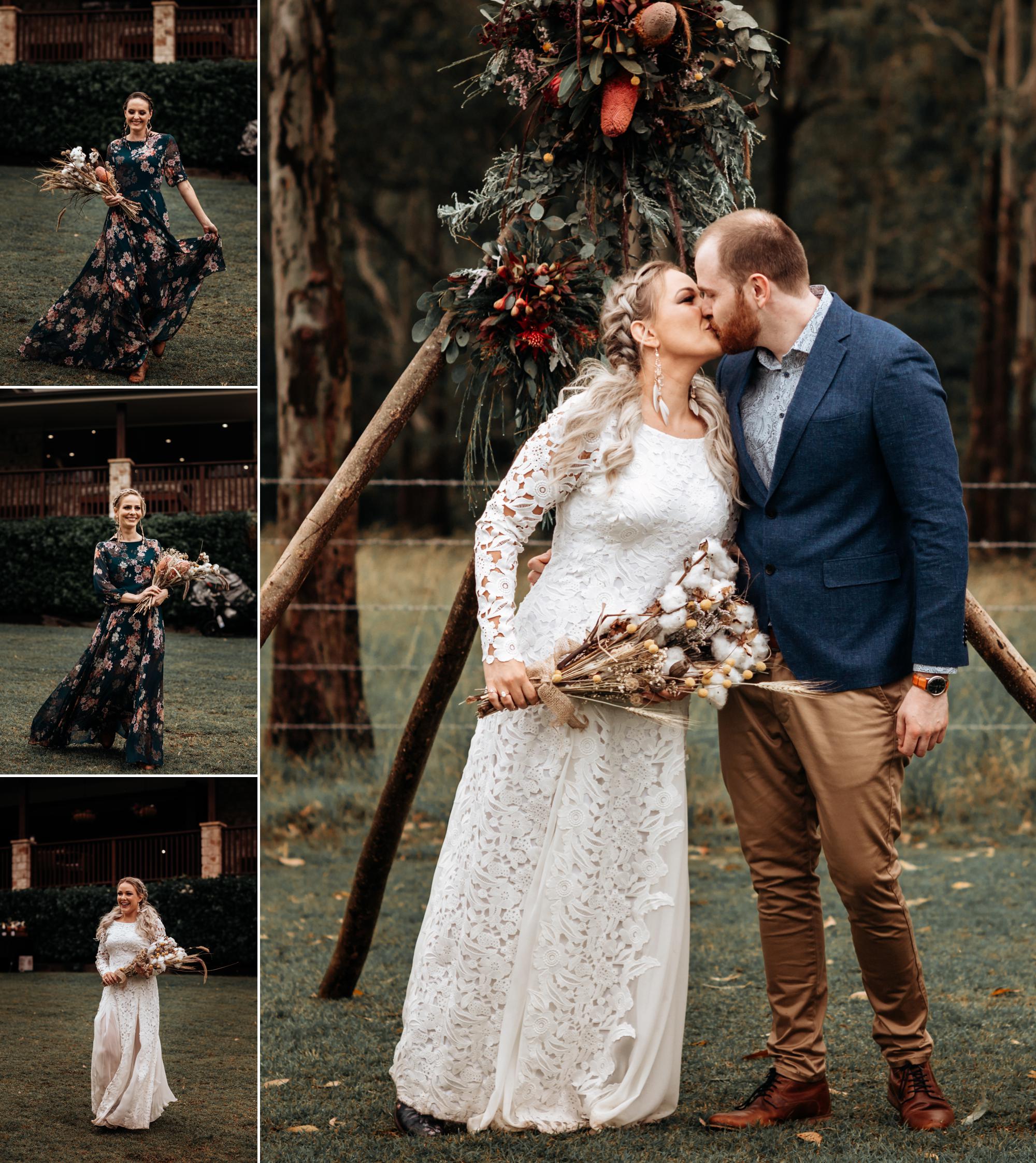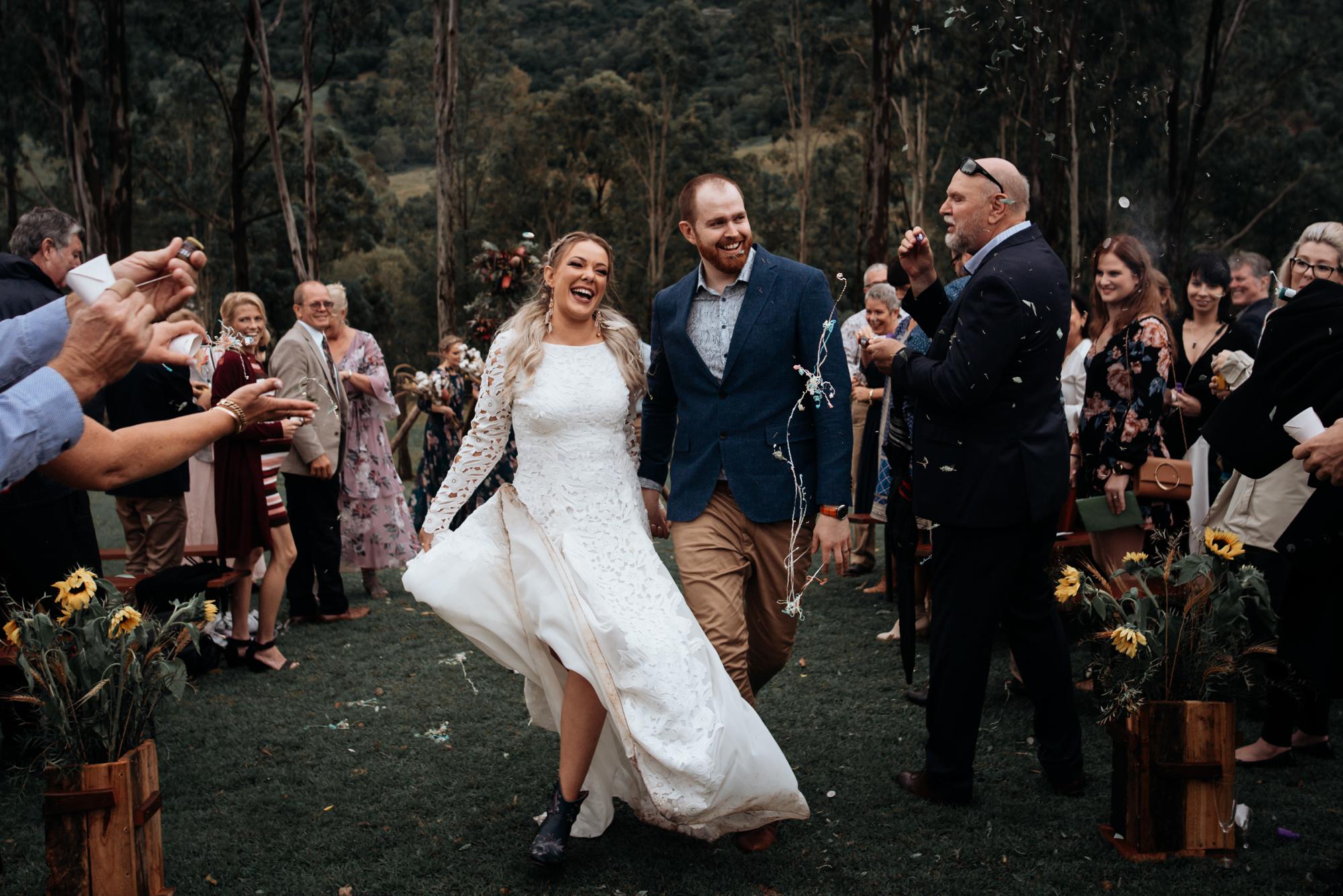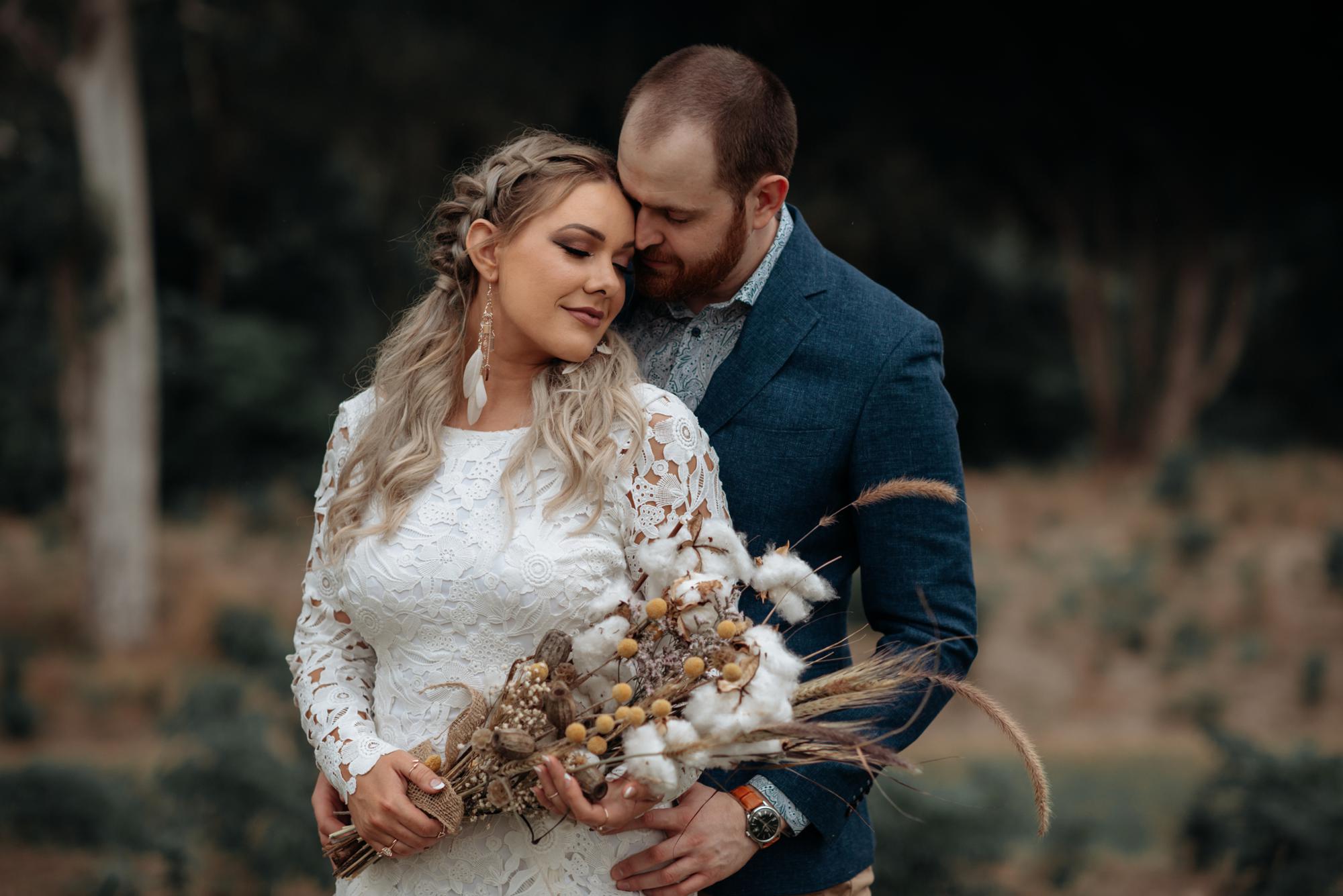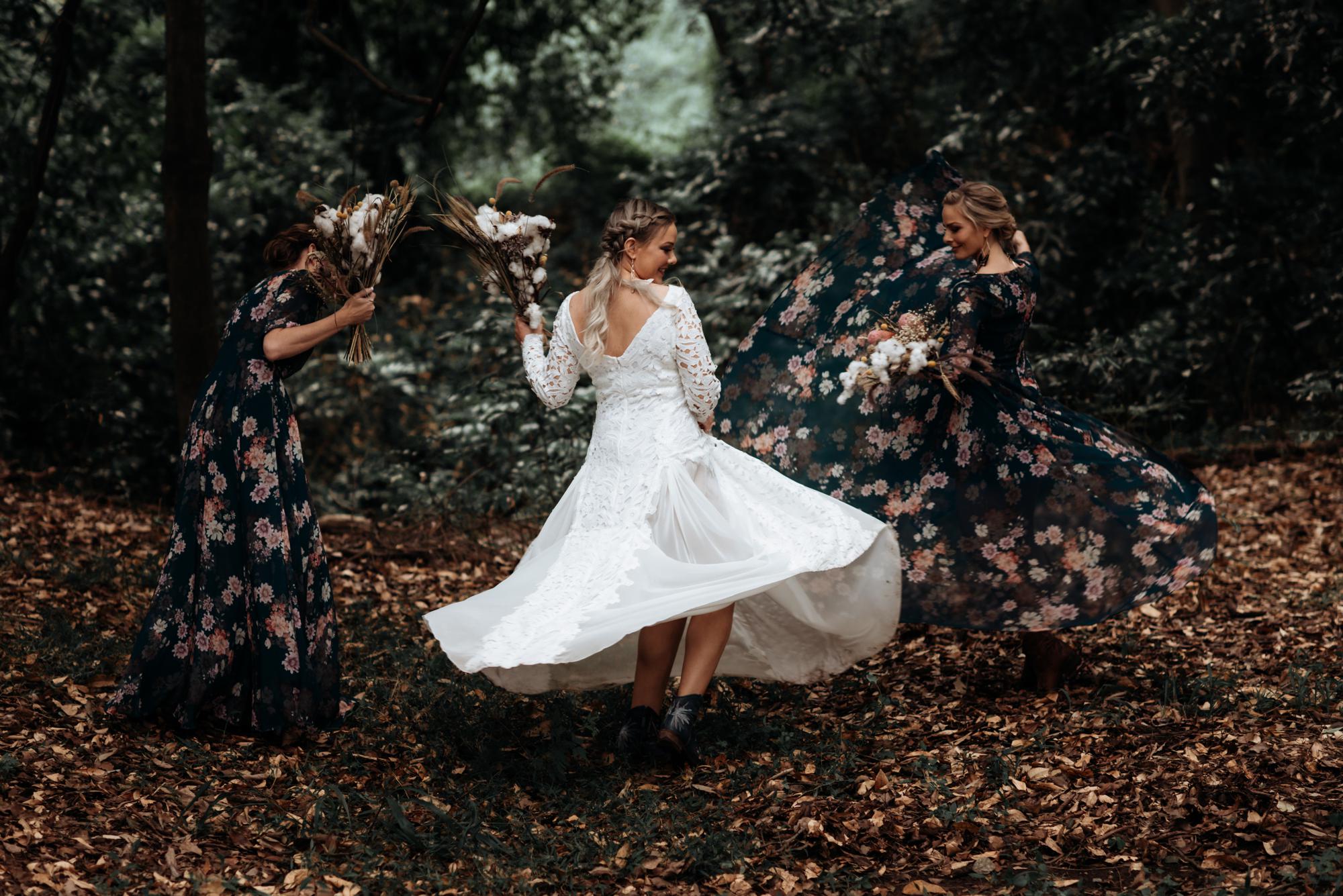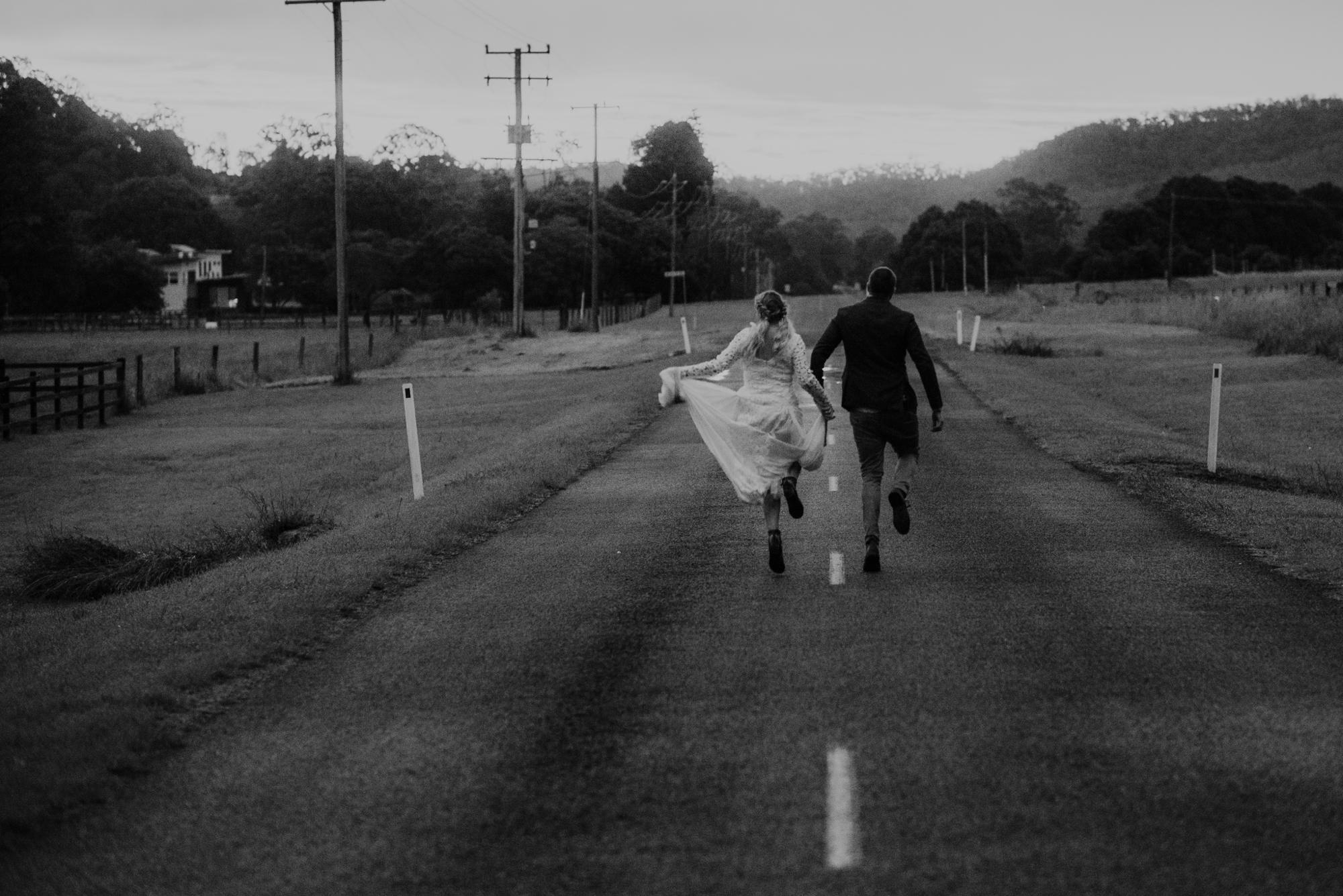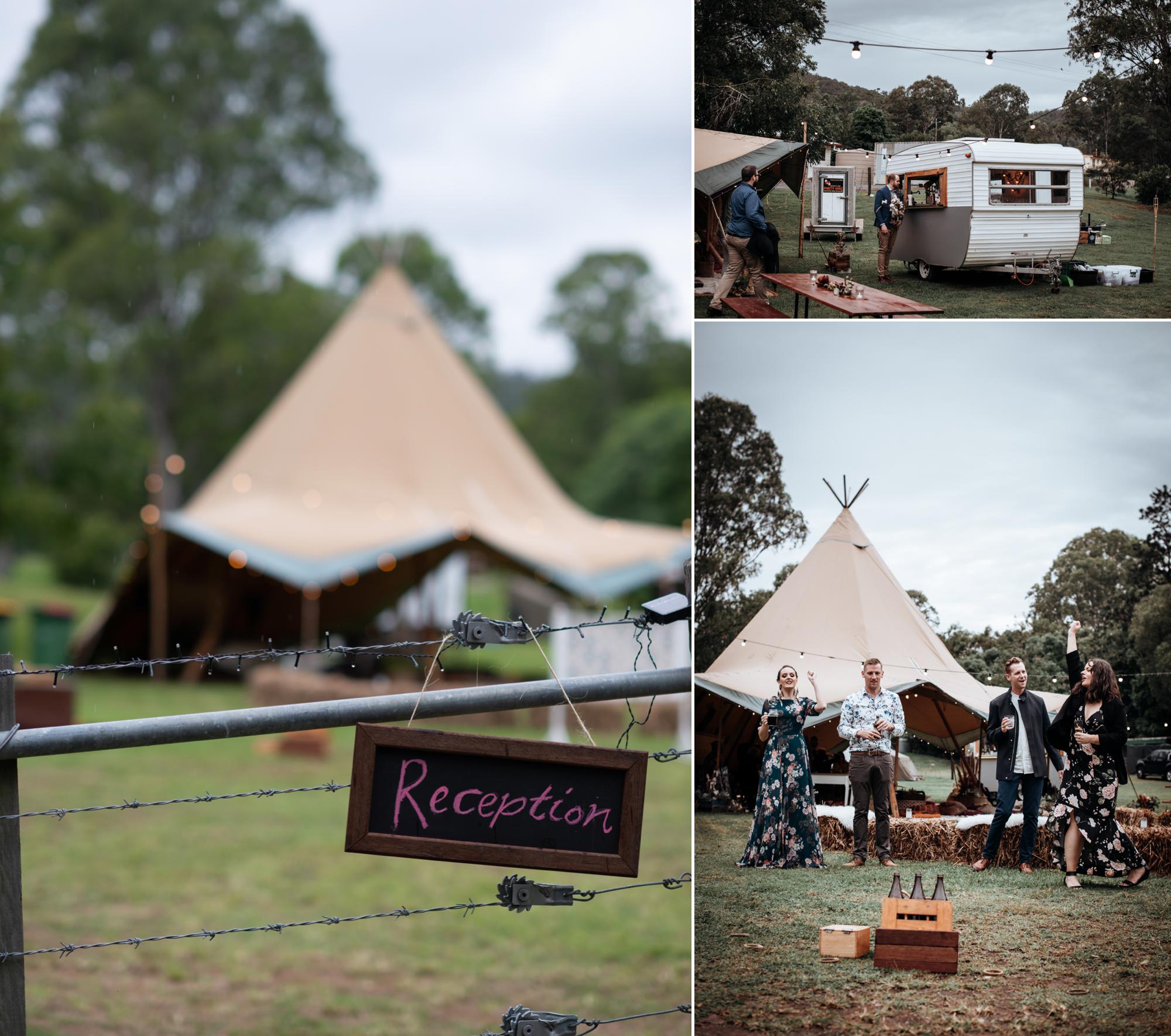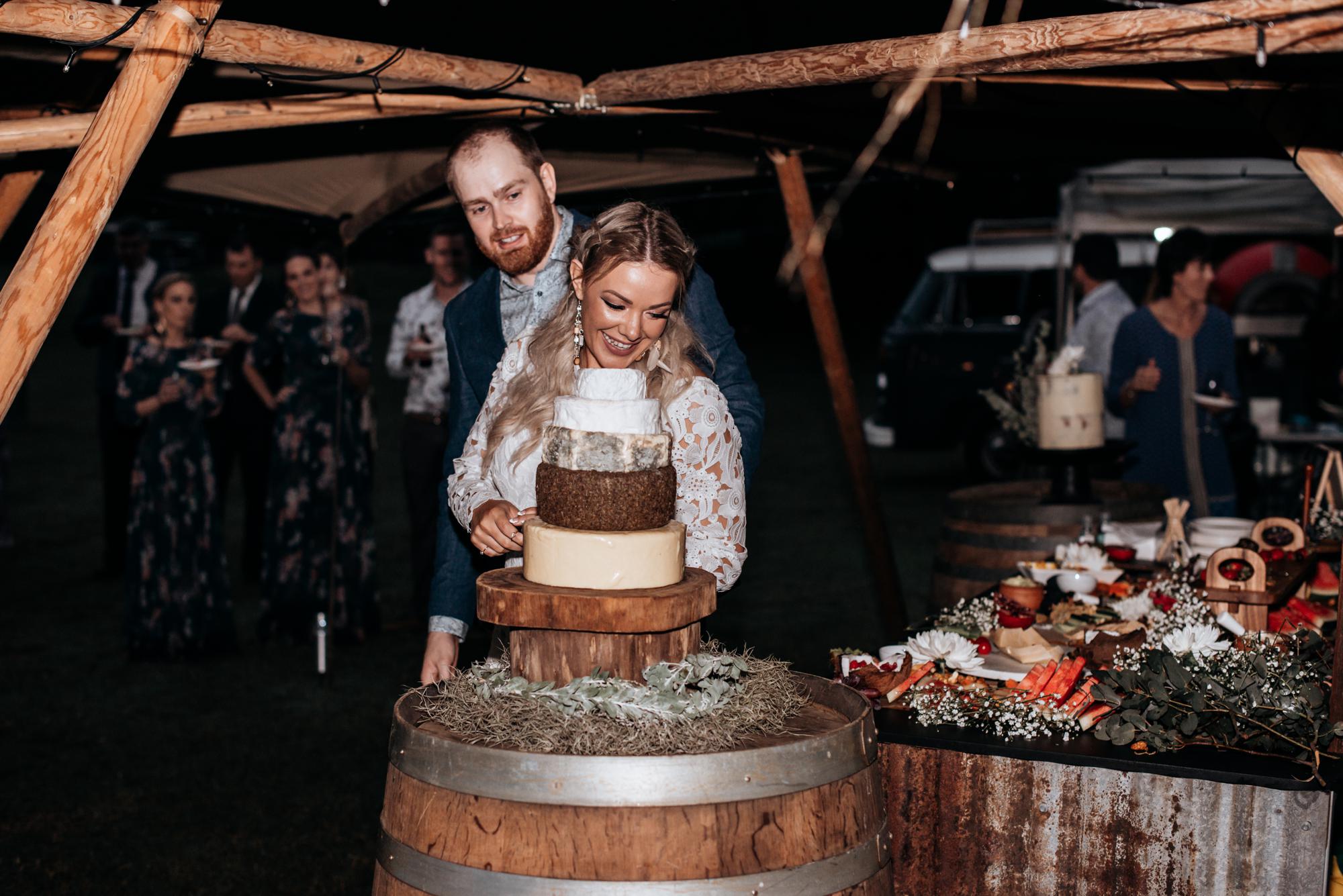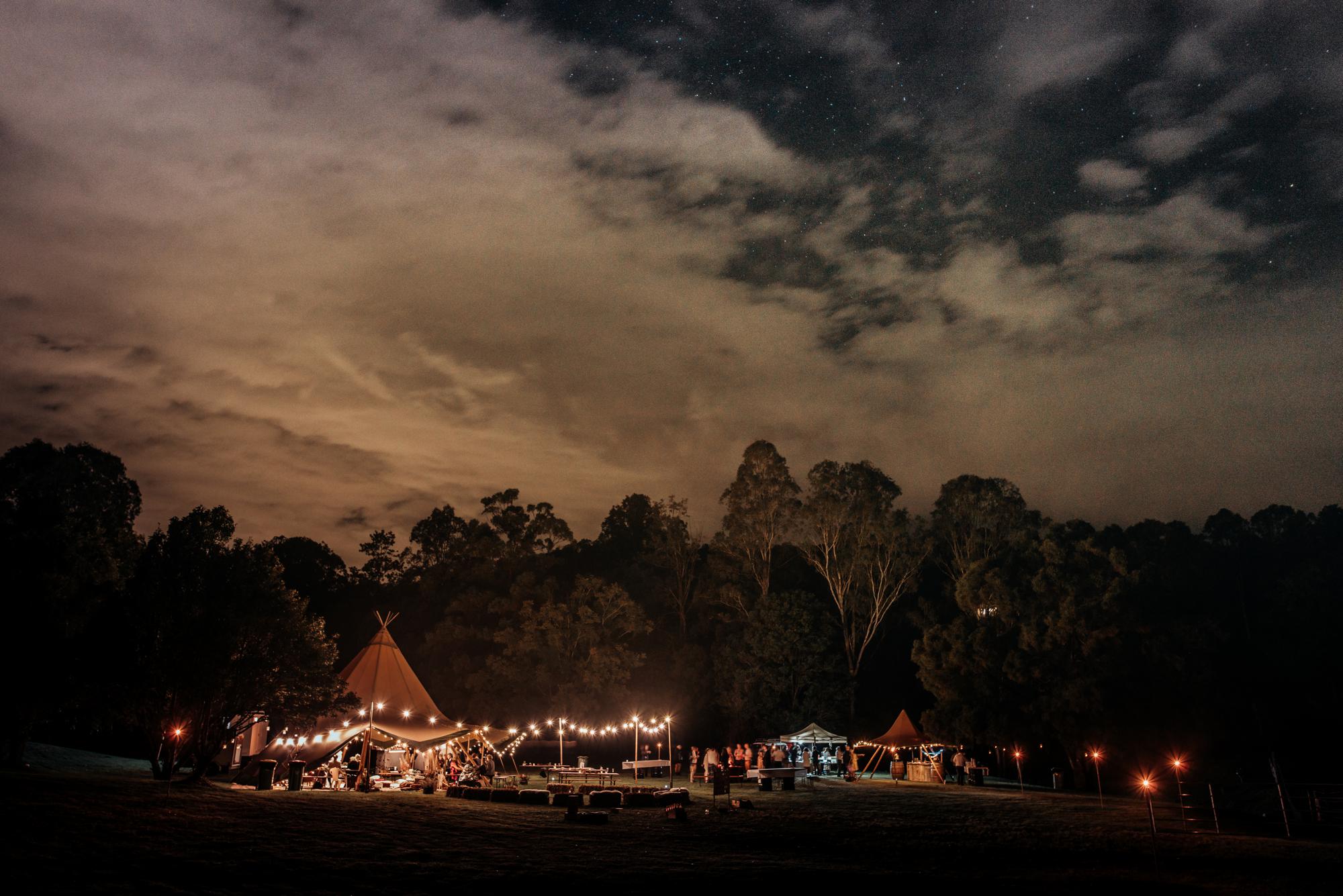 Jacqui & Chris's vendor team:
Venue: Private property at Cedar Creek, QLD
Tipis: Gold Coast Tipis
Furnishings: The One Day House Rentals
Photography: Lovelenscapes Photography
Film: NA
Catering: Pizzantica, Foraging Co, The Cheese Bar
Bar: Caravino Bar
Wedding Planner/Co-ordinator: NA
Celebrant: I am Celebrant Sam
Musician: NA
Florist: Susan Wilson (Mother of the Bride)
Styling: Dreamy Dining
Cake: The Cheese Bar, My Sweet Table
Dress: Bethany Ellis (bridesmaid)
Hair: Vivid Glamour Hair Studio
Make-up: Leigh McCoy
Suits: Politix, David Jones (Yumi Kim for the ladies)
Toilets: Brisbane Bathroom Hire
Cool room: Brisbane Bathroom Hire
Generator: Family friend