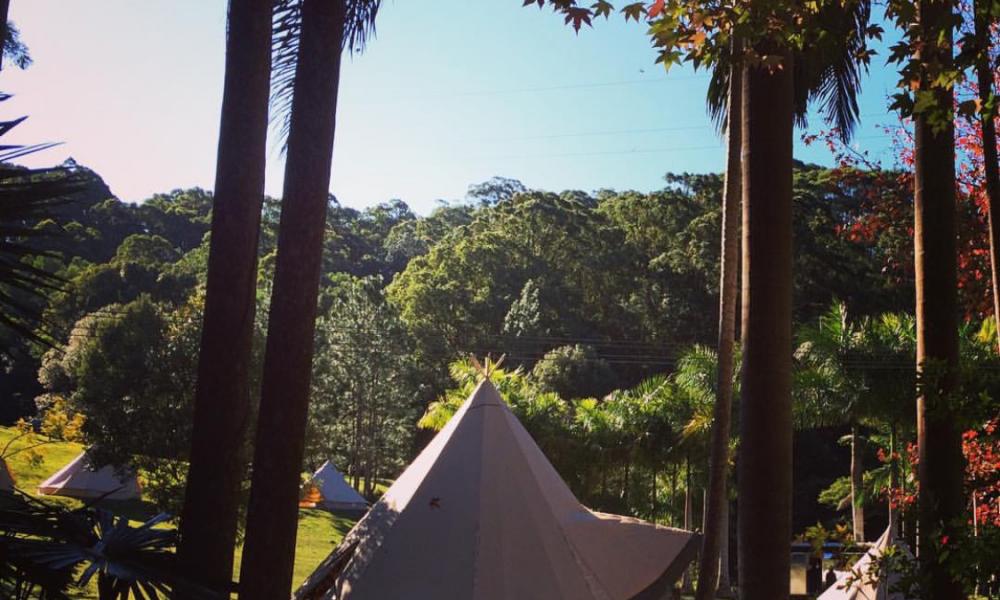 "Let's find some beautiful place to get lost".

There is nothing more alluring than nature. That's why more and more people are choosing to host their wedding, corporate function or special event out in the open, surrounded by trees and immersed in the natural ambience of their surroundings.
If you've decided to host your event beneath one of our majestic Kata Tipis, the next step is choosing a venue. Gold Coast Tipis work closely with a number of stunning venues around the Gold Coast and can recommend some gorgeous locations that are perfectly suited for a tipi event. Each property has its own unique qualities, it's just a matter of finding one that connects with your soul and is a reflection of your style and individuality.
The Farm House, Numinbah Valley
You wouldn't believe this stunning private property is only 30 minutes from the Gold Coast. The Farm House is a cute old 1920s Queenslander, set upon 60 acres of land, overlooking 2 dams.
Serendipity, Tumbulgum
This property is a true hidden gem. A nature lover's paradise, this exquisite piece of land is located just over the border and is a stunning location for any event.
Riverwood Estate, Maudsland
Riverwood Estate is something special. You'll find this boutique private property at the base of Tamborine Mountain, alongside the Coomera River. This Gold Coast Hinterland beauty is surprisingly only 15 minutes off the motorway, but the tranquility and stillness will make you believe you're far away from the hustle and bustle of the Gold Coast, deep in the countryside.
Capaja Meadows, Coomera Valley
This is a magnificent property located at the northern end of the Gold Coast. Imagine watching the sun set over the mountains while you enjoy the tranquility and views of the beautiful surrounding farmland. The acres and acres of space at Capaja Meadows gives you the flexibility to design your dream wedding or event with plenty of room to move.
Polly's Country Kitchen, Neranwood
Polly's Country Kitchen is a popular venue for marquee weddings, providing onsite catering, but with the added bonus of BYO alcohol. Polly's Country Kitchen is only 20 minutes off the motorway, but is hidden within the Gold Coast's Springbrook National Park. This incredible location is surrounded by rainforest, alongside a gorgeous stream, and a dream spot for a tipi event.
Shamba Malaika, Currumbin
As the name suggests, this wedding and event venue has a magical and whimsical vibe. Shamba Malaika, meaning "Garden of Angels", is an enchanting private property nestled beside flowing creeks and surrounded by bamboo gardens. It is only about 7 minutes from the beautiful Currumbin Beach.
Bend of the River, Tallebudgera
If you're looking for old school charm, Bend of the River delivers this and more. With manicured gardens, animals and a charming old Queenslander, this bespoke private property is only 5 minutes from Palm Beach, but you'll feel a thousand miles away.
Wongawallan Farm, Close to Mt Tamborine
Wongawallan Farm is the newest kid on the block and it's already popular among event planners. With 200 acres of rustic farmland, waterfalls and rolling hills, this property provides a stunning backdrop for almost any type of event. This beautiful spot is only 15 minutes off the highway and will blow you away with its natural beauty.
Worendo Cottages, Lost Valley Region, (90 minutes from the Gold Coast)
A beautiful escape, Worendo Cottages overlook the picturesque mountains of the Lamington National Park and will take your breath away. It ticks all the boxes if you're looking for a wedding or function venue in the wilderness, providing plenty of accommodation options for your guests, as well as onsite catering.
Kirra Hill Community and Cultural Centre, Kirra
With the beach close by, this historical location is a great venue if you dream of a beach ceremony for your wedding day. The Kirra Hill Community Centre  is set on top of Kirra Headland and is very central, offering plenty of onsite amenities and gorgeous ocean views.
Arts Centre, Gold Coast
With views of the Surfers Paradise skyline and a central location, the Arts Centre offers onsite catering and everything you need for a spectacular event. If you're planning a wedding, the charming little St Margaret's Chapel is available for hire and will set the scene for a beautiful day by the lake.
Mercure Gold Coast Resort, Carrara
The Mercure has stunning lakeside views and is in a seriously convenient location. The beauty of this property is that it offers onsite catering and amenities, as well as a beautiful golf course, onsite accommodation and activities for your guests.
If you would like to know more about any of these stunning properties, or how you can book a spectacular tipi event, call Hannah on 0400 559 299.